Often overlooked, Portable Sauna Tents with wood burning stoves are the affordable gateway to sauna benefits, and winning over sauna and cold plunge enthusiasts around the globe. Sauna tents can be cheaper than infrared saunas, with all the health benefits of an authentic Finnish sauna. A good sauna tent offers additional conveniences and adventure that you can't get from any other type of sauna.
We sell the best sauna tents on the market here.
Portable sauna tents can:
Be transported by car, sled, or backpack.
Be set up in 20 minutes.
Be stored on a shelf
Think sauna tents aren't real saunas? Think again. Criteria for a true traditional sauna includes:
Gets hot (>160f)
Rocks
Loyly (Steam)
Ventilation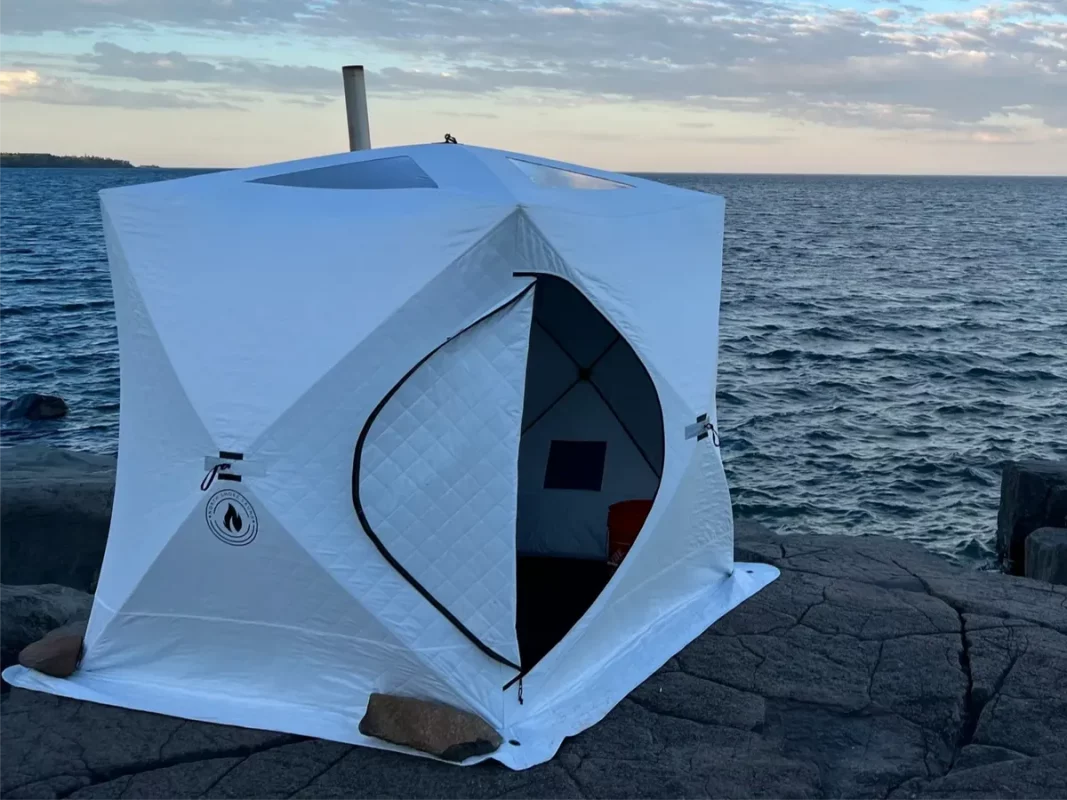 Passes The Test
Wood fired portable saunas can reach 200 degrees Fahrenheit inside. You can throw water on the rocks, throwing off a ridiculous amount of steam. Amazing.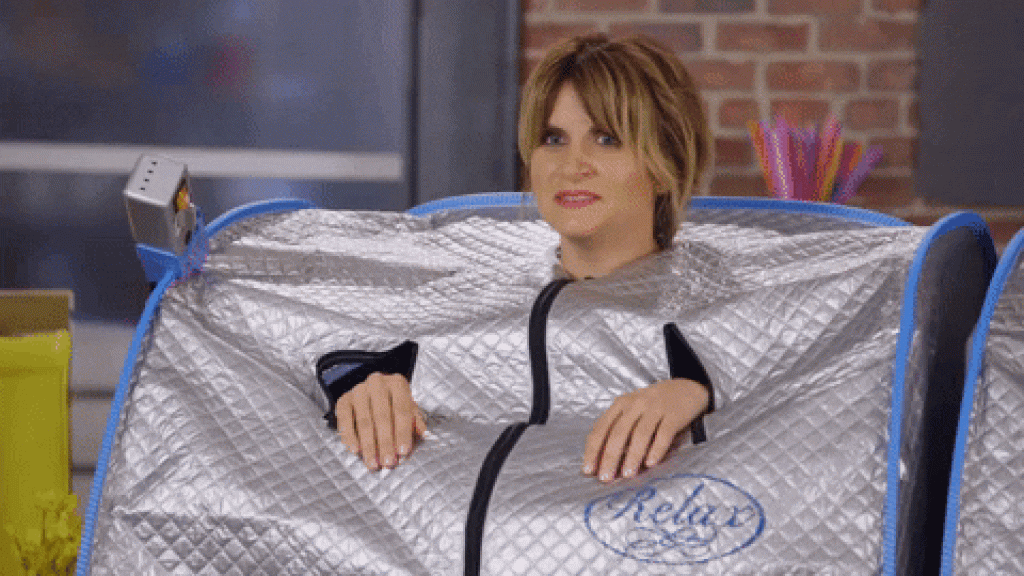 Fails The Test
Portable infrared saunas are not saunas. Sad.
This simple test eliminates infrared saunas, most health club saunas, and sauna suits – but a good Sauna Tent with a wood stove produces copious heat and steam, and adequate rocks. For a fraction of the price of a traditional sauna.
We reviewed the best sauna tents here, and try to stock trusted options on the marketplace. It's been impossible to keep the best ones in stock, but now you can reserve a sauna tent from North Shore Sauna right here on Sauna Marketplace. Their Prism Sauna Tent is comparable to a Morzh Cube, and their stove is undeniably better than anything on the market.
Sauna Anywhere
Build a portable sauna tent package right here on Sauna Marketplace from the best performing, most reliable sauna tent and stove company on the market.
These were designed and tested on the North Shores of Lake Superior by true sauna tent diehards. The Prism Sauna Tent is a true Morzh alternative in the US, and the stove is significantly better.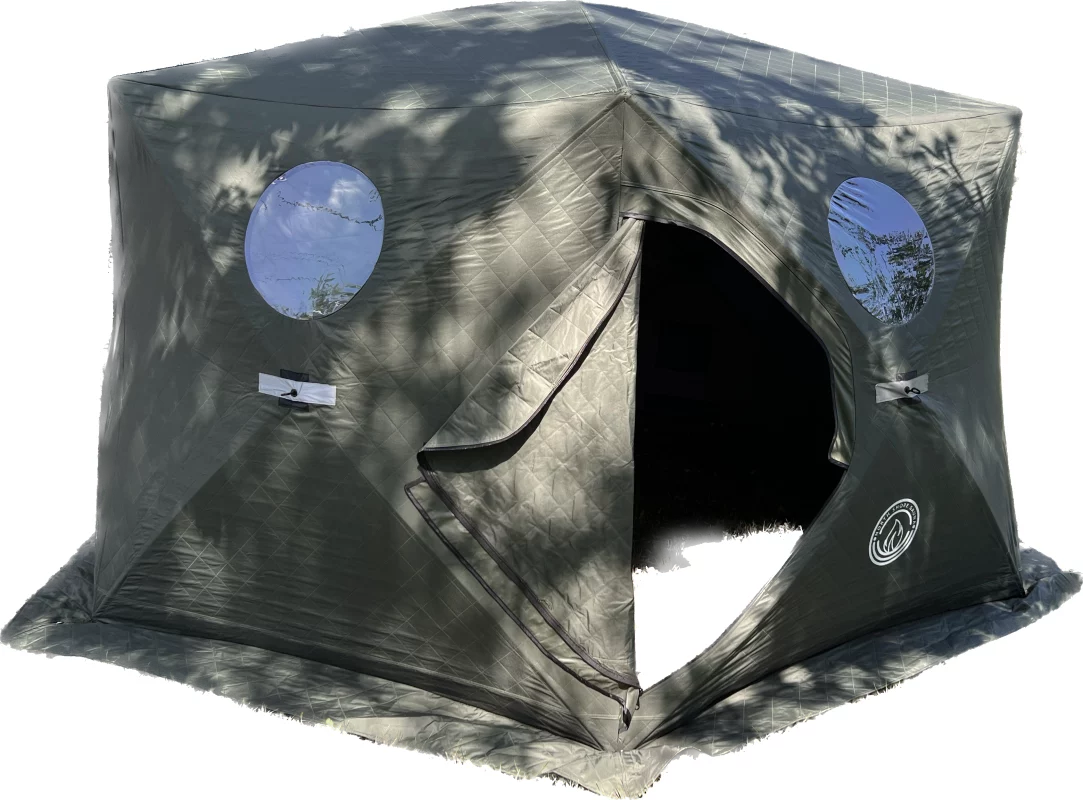 Play Bigger
The Dome Sauna Tent fits 8 people. Perfect for sauna parties, sporting events, athletic teams, or taking the family on an adventure.
Shipping in May, these will go fast.
Reserve yours here.
The Best Sauna Tent Stove
There are now a long of good sauna tent options in the North American market, including Overland, SweatTent, Backwoods Glamping, and Stokeyard Outfitters.
But without a safe, high performing portable sauna stove that can get the job done, all you really have is a tent without a floor. Spend a little extra for the stove that gets the job done.
Buying Directly From China or AliExpress
Watching the first wave of sauna tent products come in, we learned a lot about AliExpress and where their products come from.
The first batch of sauna tents and stoves were rather problematic in the US, and risked giving sauna tents a bad name. Many stoves leaked dangerous gases, rock boxes were warping, visible gaps in the stove welds, tents using the wrong materials, off-gassing materials, etc. New versions of products are being improved, and we're learning which companies stand by their products, but where did all those defective products end up?
If you want to buy the most problematic, dangerous versions of experimental sauna tents and stoves, you can buy them on AliExpress for very cheap. This is not a good way to save money. Buy the latest version from reputable companies.
Sauna Wars
While the Russian sauna tent manufacturers Morzh and Mobiba were the leader in sauna tents, they have lost their status as a reliable brand due to no fault of their own.
Due to Russia's war on Ukraine, Morzh and Mobiba sauna tents can not be reliable purchased even inside Russia. By buying a Morzh tent, you will risk having your transaction flagged and held up for months. Even in Russia, the most popular sauna tents sold are Chinese sauna tents sold on AliExpress due to supply chain issues with Russian manufacturers.
American, Canadian, Finnish, and Chinese companies have filled the demand for Morzh tents. There are growing pains and companies to avoid, but there are companies offering better sauna tents and stoves than Morzh.
See our reviews of the best sauna tents here.
Sauna tents are also the most flexible and portable type of sauna, they can go places even mobile saunas couldn't dream of. Depending on the situation, these flexible sauna tents can operated as a wet sauna, dry sauna, mobile sauna, steam sauna, winter camping tent, warming hut, and even a fish house. Some are small and lightweight that would be great for backpacking, others are huge with multiple rooms that would work great for a family reunion or football practice.
In fact, sauna tents have even been used by professional NFL football teams when conditioning players for Florida heat and humidity. They shine where other saunas would be impractical.
With all their benefits, their low cost is what makes sauna tents a gateway drug for sauna culture and achieving the health benefits associated with frequent sauna use.
Since most studies if sauna health benefits were done using traditional Finnish saunas, a sauna tent is the most cost effective way to get all the known health benefits of sauna without breaking the bank. Don't get an infrared sauna and expect the same health benefits, when you can get a real sauna experience for the same price.
Long term Finnish health studies had dose dependent results, with those with 5 or more sauna sessions a week living longest. Most people are not going to go to the gym that often, so having a home sauna is important to create the healthy sauna habit.
DIY Sauna Tent Methods and Safety
Build Your own Sauna Tent?
Sauna tents were invented by people like Mika of Sauna-Anywhere who wanted to find a way to bring the sauna tradition to their campsites.
He experimented with DIY Sauna Tents a lot in the early days with setting an old tent over rocks but found it to be a filthy exercise that lead to "getting smoked."
And Mika is right. Having an open fire in a regular camping tent is not only smokey, but dangerous. The CO2 levels can quickly sneak up on you and be quite deadly.
Another DIY camping tactic that Mika talks about is a method of creating a makeshift tent sauna using old tarps or even tents without bottoms. The campers would build a fire outside the tent and place rocks on top of the outdoor fire. Once the rocks heat up, they would push the rocks out of the fi re and move the tarp or tent over them, go inside, and throw water on the rocks to create a steam room/sauna-like experience.
This takes care of the CO2 poisoning potential of having a fire inside the tent, but you still have the problem of exposing yourself to harmful chemicals that were used to treat the tent for weather resistance. Normal tents are not meant to be heated, and could easily catch fire unlike polyester sauna tents.
Sauna tents from sauna-anywhere.com are made from untreated 600D polyester. Mika says customers often note the lack of any king of plastic/other smell that's associated with camping tents.
For a DIY Sauna we recommend, check out this 'build a sauna' guidebook from Hotbox Saunas. They use canvas and scrap plywood for a slightly more permanent sauna tent.
Benefits of Sauna Tents
Bring a sauna with you when you need one the most – camping, hunting, skiing, snowmobiling, etc.
Get around setback issues and building codes when building a sauna
Stick that sauna right up the water line at the lake, pool, river, etc.
Sauna tents are great for:
Winter campers – Cold weather camping provides solitude and beauty fair weather campers miss. It is also extremely enjoyable to warm up by a fire and let the hot rocks maintain a nice temperature while you sleep.
Winter athletes – nothing beats a sauna after an activity like nordic skiing, snowboarding, ice climbing, or hockey game. Added bonus: frequent sauna use will increase muscle mass and improve endurance.
Renters – Many people can't build permanent outdoor saunas because they don't own the land or there are some building restrictions. Mobile sauna tents can be set up for weeks at a time in the backyard and are outside of building inspectors authority. Worse case scenario – you can take it down and set it up again later.
Sauna Tent Reviews
See detailed sauna tent reviews for 2023 including Prism, Morzh, Mobiba, Backwoods, Sweat Tents, Airframes Alaska, Stormy Kromer, and Snowtrekker tents here.
Mobiba Sauna Tents
Mobiba is the original Sauna Tent company with international reach.
They are based in Russia, and partnered with Sauna Anywhere in 2010. They gained global exposure from a British TV show called Dragons Den (seems like a British version of Shark Tank) and have sold saunas around the world.
Unfortunately, due to the war on Ukraine Mobiba tents are not a practical solution outside of Russia.
Morzh Sauna Tents
Morzh is Mobiba 2.0, also a Russian sauna tent company. Again, they make good sauna tents and have helped pave the way but Russia's war has made them an unreliable partner. Luckily there are now alternatives to Morzh and Mobiba, including a great sauna tent company based in Duluth, Minnesota.
North Shore Sauna
If you live in Canada or the USA, North Shore Sauna is American tent sauna company you've been looking for. The design is similar to Russian and Japanese models, and they are available for rent or for sale in North America.
North Shore Sauna Tents are now available for sale in the US. Their next shipment of stoves is selling out fast, so get an order in today.
Savotta Sauna Tents
Finnish tactical and camping gear company Savotta has some well designed sauna tents, or 'telttasaunas' that are light weight and truly built for the arctic. Tactical companies like Savotta have been making winter tents with stoves for years and are well positioned to make wood burning sauna tents.
Did you know according to some sources, the Russian military invented the sauna tent?
Sauna Tent Rentals, Spas, and Communities
Sauna Tent Rentals In Finland
There are some great examples in Finland that show the potential for sauna tent rentals. In Finland you actually can rent a sauna tent directly from a National Park website, and they will deliver it to your campsite.
They make it possible through Eränen, a sustainable tourism company that provides tent sauna services in the Repovesi National Park, such as renting tent saunas to the reservation camp site, in connection with the reservation hut or the resting places.
Sauna Lovers Movement in Japan
Japan has a remarkable sauna culture, and sauna tents have become popular at beaches, parks, pubs, skiing mountains, and even train stations.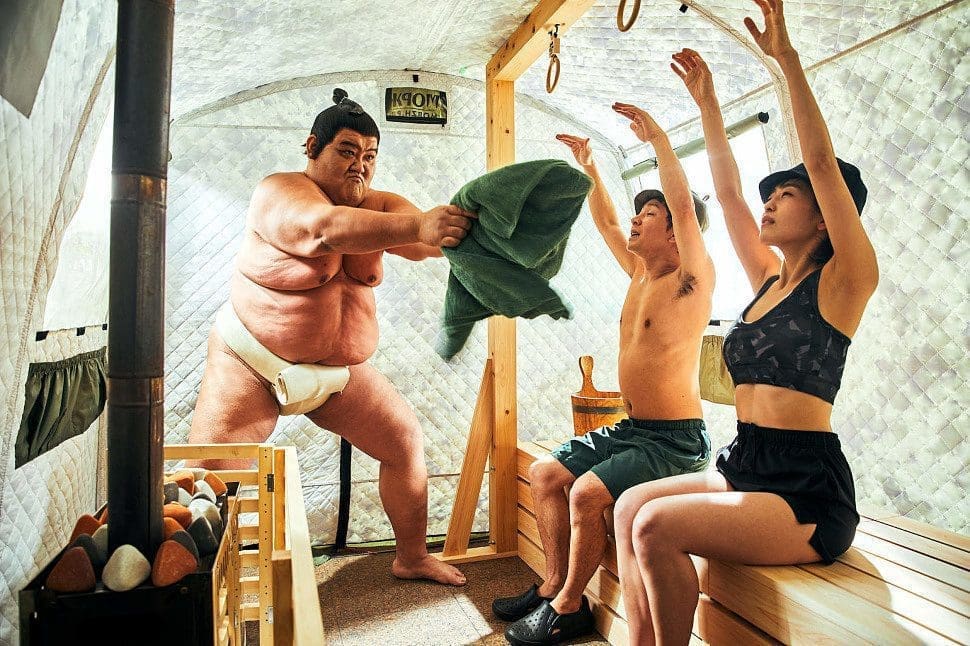 Sauna Tent Culture in Japan
C
Several tour companies are offering sauna tents as part of the travel package, and villages and spas have taken their saunas to the outdoor during the pandemic. There are entire "spa campsites" that are considered a safer alternative than indoor gyms.
Hybrid Canvas and Wood Sauna Tents
canvas saunas with wood floors and benches are also becoming a popular way to build a cheap home sauna now that lumber prices are so high.
These are build with basic 2×4 framing and covered in a canvas tarp. If the canvas or tarp wasn't designed for high heat, you can use a welding blanket or two behind the wood stove to keep the canvas from getting too hot or lighting on fire.
And these hybrid sauna tents don't have to look like homeless shelters. In fact, Finish designer Johan Brunel won international awards for his hybrid sauna tent design in 2016. He calls it the Nomadic Sauna and it is absolutely stunning.
Sauna Tent FAQ
How long does it take to heat up a sauna tent?
Good wood burning sauna tents are ready to go within 30 minutes of starting the fire.
How long does it take to set up a sauna tent?
20 minutes is a common. Some sauna tents, like the Prism by North Shore Sauna can be set up faster than a regular camping tent.
What are the health benefits of a portable sauna?
Unlike the infomercial "sauna tents" that are used in living rooms, wood-burning sauna tents are authentic saunas that likely provide all the health benefits of traditional Finnish Saunas, including cardiovascular, endurance, stress relief, sleep, and skin health benefits.
How hot do sauna tents get?
The biggest factor keeping sauna tents from wide adoption is fear they won't get hot enough, but good sauna tents have no problem reaching temperatures above 180 degrees F in the middle of winter.
How much do sauna tents weight?
They can weigh as little as 55 pounds and fit in the trunk of a car.
Are sauna tents portable?
Most sauna tents are portable enough to fit in the trunk of a car – with the chimney stored inside the wood stove. You wouldn't want to carry them by hand very far, like backpacking. If you are hiking far, you may want to use a cart. You can easily transport a sauna tent in a canoe.
Sauna tents get the job done without the price tag of a traditional Finnish Sauna.
The convenience and affordability of sauna tents makes them the perfect choice for anyone looking to enjoy the benefits of sauna without the expensive price tag. With its ability to be transported and set up quickly, a sauna tent is a great choice for anyone looking to take the sauna experience on the go. Check out our selection of the best sauna tents on the market today.
In conclusion, sauna tents are a great way to bring the sauna experience with you anywhere you go. They are easy to transport, set up, and store, and offer the same benefits of a traditional sauna. With our selection of the best sauna tents on the market, you can easily find one that suits your needs on Sauna Marketplace. Let the adventures begin.