Minnesota sauna culture is on fire, and not everyone can keep up with demand. Here are the best mobile saunas, custom sauna builders, and sauna kits Minnesota has to offer.
Custom Sauna Builders in Minnesota
A real quick note from the SaunaShare Community: thanks for keeping it local! Having a thriving community of sauna builders in Minnesota is essential for the health of our sauna culture. Let's keep the craftsmanship, jobs, and high-quality authentic saunas where they belong.
These custom sauna builders are ready to provide a quote and make your dreams a reality.
Most of these builders also have rental saunas available, and are dedicated to good craftsmanship, authentic sauna building principles, and making working with you to make everything perfect.
But if you're looking for a great deal on a great sauna in Minnesota - make sure to check out the new sauna auctions where we always have a Minnesota sauna for sale. Here's the current list:
Meet Your MN Sauna Builders
If you're looking for a REALLY cool, well-built custom sauna in Minnesota, look no further than Ox Builders.
Work with them if you're into really big glass walls, heavy duty construction, and custom, modern details in everything from door handles to stone floors.
Ox Builders is a residential contractor, so you know they're going to get the details right, and know how to handle a building inspector if necessary.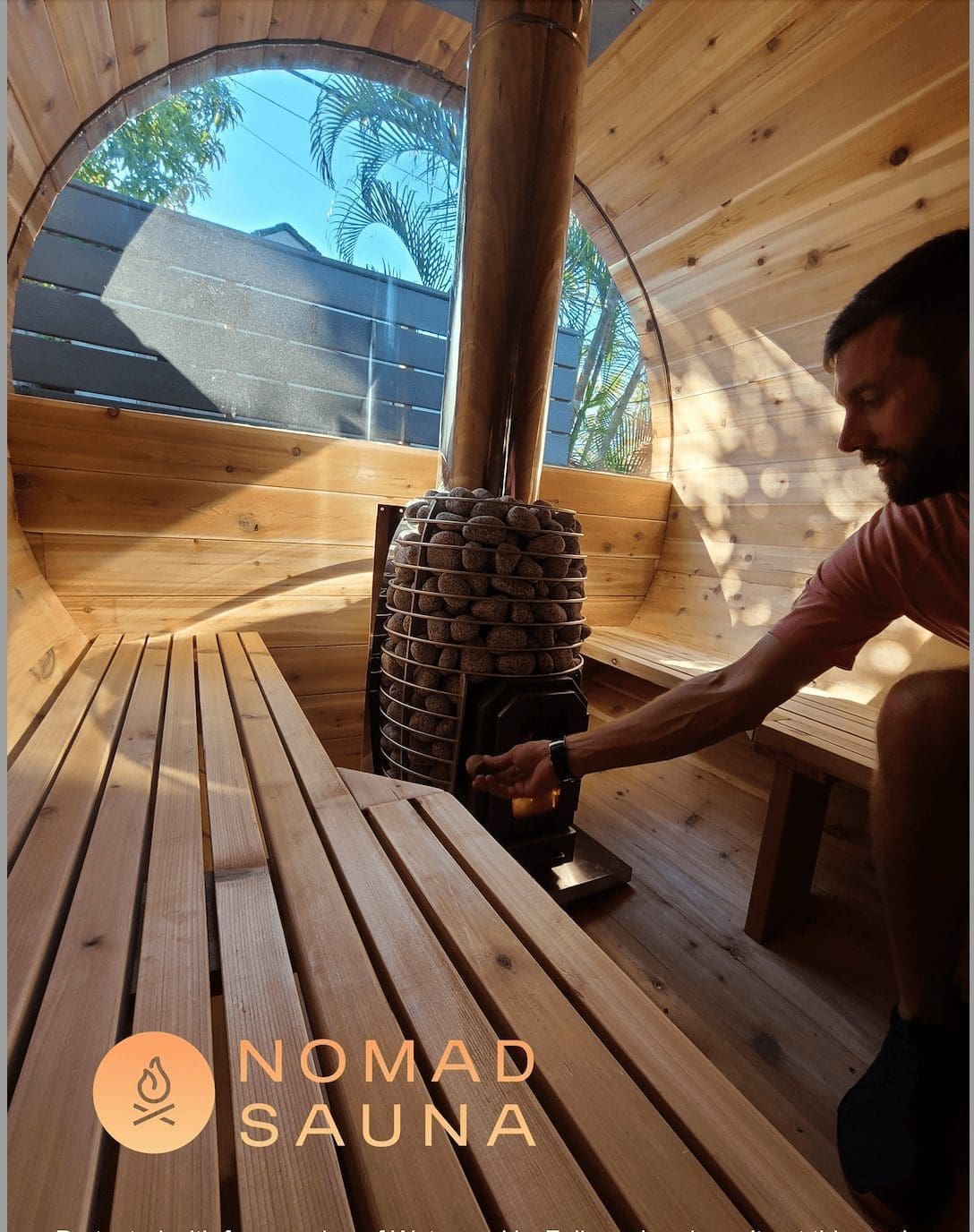 For Barrel Saunas, Horse Trailer Saunas, and Custom Design Touches Including Shou Sugi Ban
Panoramic Barrel Sauna Options to Never Let a Good View Go To WasteLooking for the best barrel sauna MN has to offer?
Based in Minneapolis, Nomad has been building barrel saunas, mobile saunas, horse trailer saunas, and other custom designs at a ferocious pace.
They have one of the largest barrel saunas in the country, HUUM Stoves, and are one of only places to get panoramic barrel sauna windows in the US.
Nomad has been partnering with breweries, yoga studios, gyms, and retreats to spread the sauna culture throughout the Twin Cities.  
They've recently been spotted building saunas in Florida, so if you're outside of Minnesota it's worth reaching out.
Remarkable saunas from a remarkable builder up in cabin country.
Founder/boatbuilder/carpenter Michael Grundman learned about steam bending in Patagonia, adding it to his toolkit for building tiny homes, sheds, and saunas.
Last we heard, Timber Arched had a couple saunas available for sale that will be ready as soon as they get some roofing materials.  Reserve yours using the price quote form above.
For a completely traditional sauna build, we recommend crossing the border to find the perfect builder in Wisconsin.
Soulful Saunas does it right, with big log frame construction that wouldn't look out of place in black and white photos of Finnish relatives.
They also have a mobile sauna for rent, and do indoor installations.
Fill out the form to be connected with custom builders near you
Finnleo is based in Cokato, MN, with a network of over a dozen dealers and installers in the state.
[wcepe_products category='78' orderby='menu_order' order='desc' columns='2' hide='image' number=44 button='Book Now']
Minnesota Sauna Kit Availability
Check out Voyageur Saunas in the Twin Cities, or Superior Saunas in Ashland Wisconsin for some sauna kit options that you can pick up in Minnesota or Wisconsin.
Superior Saunas in particular has custom and prefab sauna kits, some of which they manufacture themselves.

Here's an affordable barrel sauna kit we've had good luck with on eBay.


Budget Sauna Kit
Shipping to Minnesota
Frequently Asked Questions
Minnesota plays a significant role in Finnish American history, early American public saunas, and is home to some of the longest lasting sauna companies in the US.  Although public Minnesota Saunas have widely disappeared in favor of private basement and cabin saunas – there is a resurgence.  
Basement and backyard saunas are still popular, but there's also a resurgence of public saunas, rental saunas, and sauna culture.
From Duluth to Minneapolis, a revival of sauna builders, innovators, and entrepreneurs have created a hub of sauna culture connecting a receptive MN crowd to the Scandinavian tradition.  Minnesota is home to open sauna sessions, sauna rentals, and some of the best sauna builders and manufacturers in North America.
Minnesota is also at the forefront of the mobile sauna movement.  
Unfortunately, some of the best sauna builders in Minnesota are hard to find, and traditionally do business by word of mouth.  That's why we started our sauna concierge program to help match you with the perfect builder or prefab sauna (see below).
But if you're in a hurry, we are opening up our database of trusted MN sauna options below, we hope it's helpful!
Sauna History in MN
Minnesota has a rich history of Scandinavian sauna culture dating back to the early 1800s.  Finns increased in population in Minnesota until the 1920s when they became the 4th largest immigrant group in the state.
Finnish settlements popped up in Northern Minnesota where they found work in Lumber Camps, railroads, and mines.
One county official doubted the Finns ability to evaluate land, but their "longing for a snow-covered nature, where smooth ice-covered stretches of lake could be glimpsed through pine and spruce" explains their destination.  
Swedish speaking Finns from Ostrobothnian coastal towns and from the Aland Islands tended to seek out new homes along the water, so that they could continue their occupation of fishing on the shores of the Great Lakes.
The First Finnish Sauna and Lawsuit in Minnesota
In 1868, 3 Finnish neighbors (Isak Parbo, Selvälä and Salmonson), built the first known sauna in the region between their three farms.  
It was a simple log sauna with no dressing room, 10×12′ with seven foot ceilings.  The hot room had a pile of stones heated by fire in the corner, a high bench along the back wall, and openings near the ridge to let smoke escape.  Today this would be known as a savusauna, or smoke sauna.
For 20 years, the neighbors families took turns every Saturday using the sauna. 
In Finnish fashion, they would stand outside naked to cool themselves between sessions.  This became a problem after a road was built right next to the sauna.
The stark naked Finns cooling themselves in front of the sauna led to all sorts of grumbling and muttering about the strange ways of the Finns.
The village authorities ordered the sauna removed "from the middle of the road" in 1885.  The owners removed the sauna, but brought the first Finnish lawsuit to court in Cokato where they won $70 in damages and moving expenses which allowed them to build a bigger, nicer sauna elsewhere on their property.
The original Savusauna still stands in Cokato after moving several times, and was recently restored.
Sauna Heater Innovations in MN
Saunas were not traditionally for sale in Minnesota because building them was almost a Finnish Right of Passage.  When Finns bought land, they often built (and still do) their sauna first.  They would live in the Sauna as the house was built.  
Wood burning sauna heaters, on the other hand have a long history of innovation and entrepreneurship in Minnesota.
One company that began in the early 1900s is still selling sauna heaters today.