Sauna enthusiasts can be hard to shop for, so we compiled a list of our favorite Nordic Life products and sauna accessories.
Nordic living goes beyond the sauna. Sauna accessories like the Borsch Sauna Hat are comfortable, unique, and very warm. And nothing says Nordic Living like an open flame. Our list of sauna gifts and accessories includes 3 ways to keep that fire burning wherever you.
Follow a few of our suggestions below and we promise you'll be surrounded by coziness, Hygge, and Nordic style wherever you are.
Outside The Sauna
The following are the best sauna gift ideas, accessories, and novelties to keep the sauna spirit alive. Some of these will be a part of your sauna routine but you'll find yourself using them everywhere.
Sauna Life All Day
Take the spirit of the sauna with you wherever you go.
Borsch Sauna Hat
Sauna hats are fashionable, unique, and super practical during sauna sessions. Have you ever walked out of the sauna in the winter and had your hair freeze? Sauna hats keep the moisture in your hair and prevent a multitude of sauna problems.
Relaxing outdoors (comfortably) in nature is an important part of the sauna practice. The first two items on our list will make that part of the experience more enjoyable. If you haven't enjoyed the hot/cold cycle of a traditional sauna practice, you probably didn't have a sauna hat.
Related Post:
Where to buy a sauna hat
$19.99
in stock
as of January 20, 2022 2:05 am
Solo Smokeless Camping Stove
Standing outside between sauna sessions is one of the best parts of the sauna experience. You're going to be wet, sweaty, and not wearing much besides a sauna. A smokeless camp stove like the Solo Stove makes standing outside in the snow as enjoyable as the sauna itself.
These stoves light quickly, put out excellent heat, and aren't dangerous to the touch. You can even put them on most deck surfaces. Once you use a solo stove you will never go back to open flame.
Having an outdoor fire is also a great way to incorporate fire if you have an electric sauna stove in the sauna.
Where to Buy a Solo Stove For Outside the Sauna
$259.99
$349.99
in stock
25 new from $259.99
as of January 20, 2022 12:48 am
Black Cedar Sand + Fog Candles
These sauna inspired candles are sure to bring warmth and the feeling of sauna with you throughout your day. Use in a sauna candle window or take it with you to snuggle up with your favorite sauna book (ours is below).
Where to Buy Sand + Fog Candles
$24.00
in stock
as of January 20, 2022 12:48 am
The Opposite of Cold: The Northwoods Finnish Sauna Tradition
This sauna books is a must have for any sauna enthusiest, sauna builder, or anyone looking to learn about true Finnish sauna culture in America. The pictures are breathtaking and it's full of inspiration for building indoor and outdoor saunas. This book has helped many readers decide where to put their sauna and helped inspire them to get it done.
Where to Buy Sauna Books
$34.95
in stock
5 new from $29.12
4 used from $25.29
as of January 20, 2022 12:48 am
Ice Barrel For Cold Exposure
Cold therapy and cycling between sauna and ice baths have some extraordinary research behind it. The logistics of having an ice bath outside during all seasons is actually a lot harder than you'd think (we used to have a broken chest freezer filled with ice water).
Ice Barrel For Cold Immersion
Cold therapy can help with reducing stress, improving mood and brain function, healing the body, strengthening the immune system, and alleviating depression and anxiety.
Learn more about the benefits of cold therapy here.
The ice barrel makes it fun and easy to cycle cold baths between sauna sessions.
The Ice Barrel is the first product on the market built for ice baths between sauna sessions. It only sucks for the first week, then it's amazing! Check out the Wim Hof Method for more information.
Where to Buy an Ice Barrel For Ice Baths
$1,199.97
in stock
as of January 20, 2022 12:48 am
Cedar Hot Tub
A Cedar Hot Tub also makes a wonderful ice bath for cold exposure between sauna rounds, but it's also just nice to have a cedar hot tub around.
Anyone who has had a true Finnish sauna will prefer a Sauna to a Hot Tub, but if you have the option why not have both?
Where to buy a cedar hot tub
Flikr Personal Fireplace
If you haven't seen the Flikr indoor/outdoor fireplace yet you're in for a treat. They use rubbing alcohol as a fuel, don't emit smoke or oder, and are safe to cook marshmallows on.
In true sauna spirit, you can keep the fire rolling into the night, and take it with you. They put off heat, but it's nothing compared to the warmth the ambience provides.
While the Flikr was the original personal fireplace, we actually prefer the Colson model.
Where to buy a personal fireplace
$74.99
$85.00
in stock
as of January 20, 2022 1:06 am
Traditional Sauna Accessories
Inside The Sauna
These are the best sauna accessories for an awesome experience.
They include some things that may have come with your sauna, but probably a few accessories you haven't though of yet.
We are big believers in making the sauna experience easier and more consistent. Technology such as wifi enabled sauna thermostats and thermometers can make sauna life a lot safer and easier.
Here are the essentials that we think every sauna should have.
The Sauna Sausage Soapstone Cooker
This gift is as ridiculous as it useful (very). Why not heat up a sausage on the sauna rocks so you're ready for an after sauna snack? It's a match made in sauna heaven.
They are made with soapstone for perfect heat that's hard to screw up. Just don't cook and eat your hot dogs in the public sauna!
Where to buy a sauna sausage soapstone cooker
It's difficult to buy these in the US, but you can get them through an
Etsy seller
.
Sauna Backrest
A good sauna backrest is a must have for serious sauna users. A cedar sauna backrest is the best, but aspen, and Canadian Hemlock work well too. Even when there are nice cedar backrests built into the sauna bench, you'll enjoy the flexibility of a backrest you can move around, or use as a pillow.
A sauna without a backrest may expose you to metal screws, and will wear down the sauna leaving marks where people most frequently sit (gross). A sauna backrest also makes cleaning easier.
There are two types of sauna backrest, one is a curved design that most people prefer for sitting. The other type can besed as a sitting backrest or a pillow. It's really nice to find a kit that has both.
Check out the kits that come with both types of backrest as well as matching sauna accessories (cupholders, magazine holders, etc). If you plan on having several traditional sauna accessories, it definitely is nice to have them match.
Where to Buy a Sauna Backrest
$109.98
in stock
3 new from $109.98
as of January 22, 2022 12:03 am
$219.95
$345.90
in stock
5 new from $219.95
as of January 22, 2022 12:03 am
Rento Sauna Aromatherapy Scents
Add 2-4 caps of any Rento Aromatherapy Scent to your sauna bucket and thank us later. Authentic Finnish Aromatherapy.
Where to buy Finnish Sauna Aromatherapy
$24.99
in stock
as of January 20, 2022 1:12 am
Wifi Enabled Sauna Thermometer and Humidity Meter
If you have an outdoor sauna in the winter, you probably fire it up and come back 90 minutes later. You are wasting time and money.
Grab a wifi thermometer and get an alert when your sauna hits your desired temperature.
And while you're at it, upgrade your boring, inaccurate sauna thermometer with this authentic Finnish thermometer from Rento. WIFI control is great but you'll always want an analog sauna thermometer in the hot room.
Where to buy a Sauna Thermometer
$59.99
$69.99
in stock
2 new from $59.99
1 used from $54.22
as of January 20, 2022 1:35 am
$62.50
in stock
as of January 20, 2022 2:05 am
Sauna Sand Timer
While we advocate for listening to your body – it's still a good idea to know how long you've been in the sauna. How long you stay in the sauna depends on your preferred heat and outcomes, but most recommend 3 cycles of about 15 minutes.
Either way, you'll want to keep track. There's an old school way and a more modern digital way to keep track. We always recommend the traditional sauna sand timer. We're all for digital thermostats but we want to be mindful about how much technology we're bringing into our saunas.
Watching a sand timer in the sauna is a meditative practice in itself.
Where to Buy a Sauna Sand Timer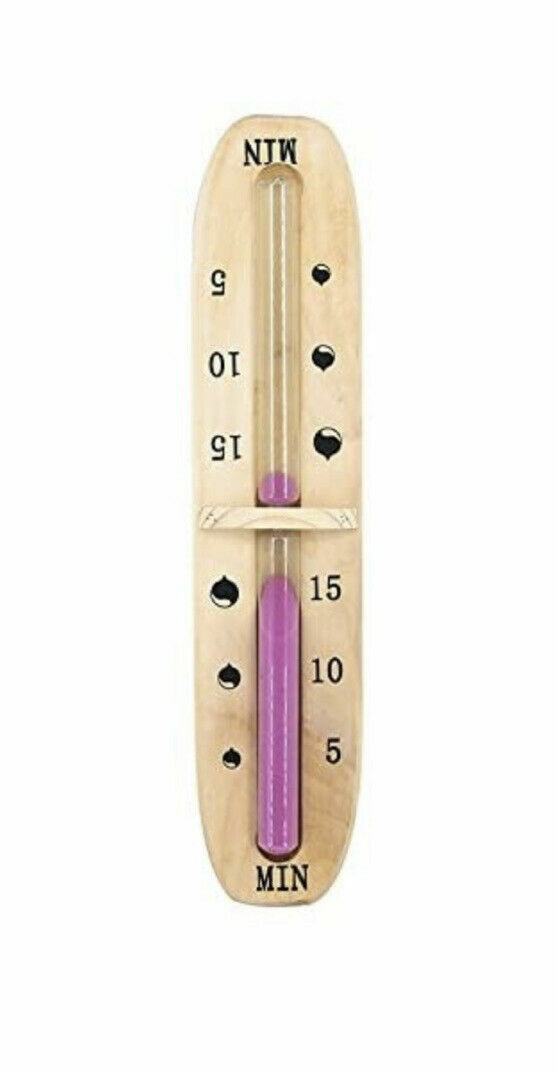 Sauna Bucket and Ladle
You can't have a proper sauna without a bucket and ladle. They don't have to fancy, but they certainly can be. We love the modern bucket and ladle from 7L. The ladle angle is perfect for easy transfer of water to the rocks.
7L Sauna Bucket and Ladle
The wood handles keep it comfortable to the touch and they are built to last.
Where to Buy a Sauna Bucket and Ladle