Experience the best of nature and relaxation with a panoramic barrel sauna. A sauna with a view elevates your wellness experience to new heights, and there are finally excellent panoramic barrel sauna kits available from Dundalk Leisurecraft, SaunaLife, and Thermory.
Picture this: you're sitting in a steamy sauna, but instead of being in a dark, claustrophobic sauna staring at wooden walls, you're gazing out at a breathtaking landscape. Sounds too good to be true, right?
This innovative sauna design lets you enjoy the healing powers of a traditional sauna while soaking in the beauty of your surroundings. So, let's dive into the world of panoramic barrel saunas and discover how they can elevate your wellness experience.
Best Panoramic Barrel Saunas (click for details)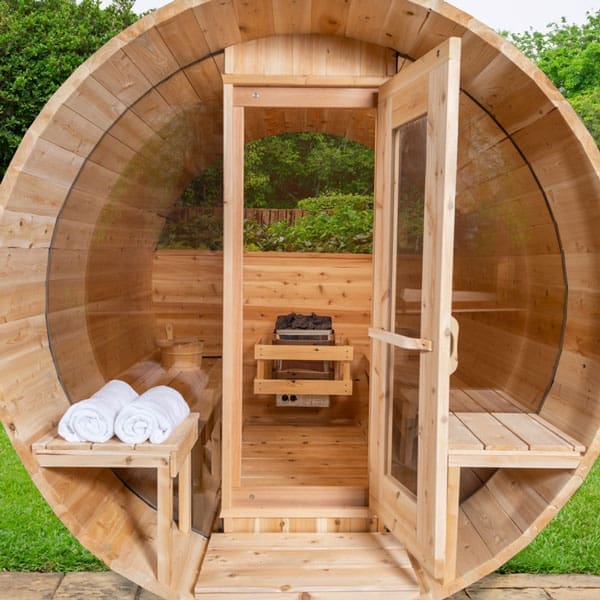 The Magic of Panoramic Barrel Saunas
A Feast for the Eyes
The Panoramic Barrel Sauna for a Sauna with a View is not your average sauna. Featuring large glass windows that span across the back wall, it offers an unobstructed, panoramic view of your environment. Imagine enjoying a soothing sauna session while gazing at the sun setting over the ocean, or watching the snow gently falling on a serene winter landscape.
Better yet? Floor to ceiling glass front barrel saunas are the perfect way to get a big view in a compact space.
The Barrel Design Advantage
The barrel shape of these saunas is more than just an aesthetic choice. This unique design provides a number of practical benefits:
Affordable: Barrel saunas are not just efficient with energy, but with materials as well. The design provides the most seating area per material cost, and can "flat pack" to reduce shipping costs. Barrel saunas aren't perfect, but they do make the authentic sauna experience more accessible and can fit almost everywhere with little preperation.
Quick Heating Time: Thanks to the reduced air volume in a barrel sauna, it heats up faster than a traditional square or rectangular sauna.
Sturdy Construction: Barrel saunas are built using high-quality materials like red cedar or spruce, ensuring long-lasting durability and a beautiful natural look.
Top Panoramic Barrel Sauna Brands
When it comes to purchasing a panoramic barrel sauna, you'll want to consider the reputation and quality of the manufacturer. Here are three top brands to consider for your sauna with a view:
SaunaLife: For full panoramic front glass windows, SaunaLife EE6G and EE8G are the obvious choices in North America. They are made out of thicker than standard thermally modified spruce, have upper benches, shingle roof kit, and free LED light kits for a limited time. Check out the EE6G for a most compact panoramic barrel sauna with benches along the back wall, or the EE8G for the ultimate upper bench barrel sauna experience.
Thermory: Known for their exceptional craftsmanship and sustainable materials, Thermory offers a range of panoramic barrel saunas made from thermally modified wood, which provides enhanced durability and insulation. Check them out here.
Dundalk Leisurecraft: Dundalk Leisurecraft makes the best cedar barrel sauna kits. They have an EPIC panoric front AND rear window option on the Serenity and Tranquility barrel saunas kits (must select MP option). They are sustainably harvested and manufactured in Ontario, Canada. Sauna Marketplace and Dundalk Leisurecraft have teamed up to offer FREE direct-from-factory shipping.
Nomad Sauna: Nomad Sauna offers custom barrel saunas, including mobile saunas with a full glass panoramic back wall (most are just the upper half). Based in Minnesota, they can be reached here.
It's also possible to rent a panoramic barrel sauna from Nomad Sauna and others here. This is a great way to get a feel for the size, feel, and routine of a barrel sauna before buying one.
In Conclusion
A Panoramic Barrel Sauna for a Sauna with a View is more than just a luxury – it's an immersive experience that combines a traditional sauna's restorative benefits with nature's awe-inspiring beauty. By incorporating this innovative design into your wellness routine, you'll enhance your relaxation and create lasting memories with every sauna session. Whether you choose a SaunaLife, Thermory, Dundalk Leisurecraft, or Nomad Sauna, you can rest assured that you're investing in a high-quality, picturesque wellness experience.
Experience the ultimate relaxation and unparalleled views with our top-of-the-line barrel saunas! Discover the transformative power of a sauna with a view, and elevate your wellness journey to new heights. Don't just take our word for it – head over to our Barrel Blog to learn all about the benefits and features of our exquisite barrel saunas.
Once you're ready to transform your outdoor space into a sanctuary of tranquility, browse our collection of premium barrel saunas for sale. With a variety of sizes and styles to choose from, you're sure to find the perfect sauna to suit your needs and complement your surroundings. So, don't wait – indulge in the bliss of panoramic views and rejuvenating heat with one of our stunning barrel saunas today!