Wisconsin has always been, and will always be a sauna state.  On the shores of Lake Superior, Finnish immigrants would first build their saunas and eventually get around to building a house (for real).
Wisconsin has some of America's last great authentic sauna builders, physical stores, showrooms, and one of the fastest growing rental sauna markets in the world.
There is no sauna like a Wisconsin Sauna.  We truly appreciate the opportunity to share our love of sauna culture, and help you find what you're looking for.
SaunaMarketplace.com is a Wisconsin Sauna company, so please reach out if there's anything we can help you find on your journey.
Wisconsin Sauna Builders
Below are some trusted sauna builders in Wisconsin who do custom build, outdoor saunas with traditional practices.
Soulful Saunas
Soulful Saunas in SW Wisconsin is the best option for traditional, custom saunas in Wisconsin.

They have even delivered a mobile sauna to Sauna Marketplace HQ. We use them, we trust them.
Custom Indoor Saunas
Custom and Standard Outdoor Saunas
Custom Mobile Sauna Builds
Mobile Sauna Deliveries
Commercial Installations
Joel at Soulful Saunas specializes in classic cabin-style saunas that look great in any Wisconsin yard. He uses traditional sauna building techniques but isn't afraid to add modern elements like a mobile sauna, electric stove, or a Kuuma wood-stove.
In fact, Soulful Saunas has a mobile unit that can be rented in the Driftless region (see below).
Check out Soulful Saunas here.
Interior Saunas
Get a quotes for your in-home sauna from Wisconsin Builders
Sauna Marketplace
That's right.  SaunaMarketplace.com and SaunaShare.com are based right here in Wisconin's Driftless region.
Most barrel saunas, and sauna heaters ship from Illinois for free to Wisconsin in a matter days.  That means Wisconsin has fast access to
HUUM
,
Harvia
,
Thermory
barrel saunas,
Auroom
, and a whole lot more.
We work with sauna builders throughout Wisconsin and Minnesota that can deliver custom saunas at any price range.
Let us know
what saunas and products you're looking for in Wisconsin and we'll get it there fast.  Ask us for the Wisconsin discount, ya never know.
Timberwolf Construction – Minocqua, WI
Timberwolf is a custom home builder that does remodels and additions based out of Northern Wisconsin. While it's not their primary business they do beautiful sauna additions in many of their remodels.
If you're looking for a high-end sauna within one hour of Minocqua, check out Timberwolf Construction here.
Superior Sauna and Steam – Ashland, WI
Sauna Heater Sales (HUUM, POLAR, TYLO Brands)
Outdoor Sauna Kit Sales (Dundalk, Thermory Brands)
Indoor Sauna Kit Sales (Nordic Spruce Brand)
DIY Sauna Kits
Hot Yoga Sauna Kit
Sauna Accessories
Superior Sauna and Steam is a trusted distributor with some good international products. If you're looking for a prefab option in Wisconsin this is a good place to check out.
Rent a Mobile Sauna Delivery in Wisconsin
Still saving up for that perfect sauna? Want to try a few saunas before you decide?
Sauna Rentals in Wisconsin
SaunaShare.com has saunas available for rent in each corner of Wisconsin, with more being added weekly.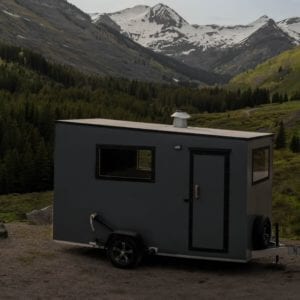 Includes firewood, towels, bucket & ladle, essential oils.
Vacation Rentals and Hotels with Saunas In Wisconsin
Riepenhoff's Butternut Lake Cabins - 4 rustic Wisconsin lake cabin rentals with an amazing sauna. Just book a cabin and let them know you want access to the outdoor sauna during your stay. Details and booking at butternutcabins.com
Sauna Tents in Wisconsin
Sauna tents are the fastest growing way to get the benefits of sauna without breaking the bank.  We feature North Shore Sauna tents (here) and stoves (here) from neighboring Duluth, MN.
But Wisconsin is also home to Snowtrekker tents, a backwood camping company that recently launched a sauna tent.  We haven't tried it yet but you can check them out here.  They are based in Viroqua, Wisconsin.