Chicago boasts a diverse sauna scene that caters to every taste. Whether you want to rent a state-of-the-art mobile sauna in your backyard, get the full platza experience at an old world banya, or have a sauna tent with catering delivered to your local park, there's a Chicago sauna for you.
Chicago is home to some of the most iconic old-world saunas in America, with some dating back to 1906 and still operated by immigrant families from Poland, Russia, and Ukraine. The Chicago Sweatlodge and the Chicago Bath House, in particular, have a storied history that goes hand-in-hand with their world-class bathing experiences.
But what's most exciting about the Chicago sauna scene is the introduction of The Sauna Club – the first authentic mobile sauna in Chicago.
Mobile Sauna Rental and Public Sauna Events In Evanston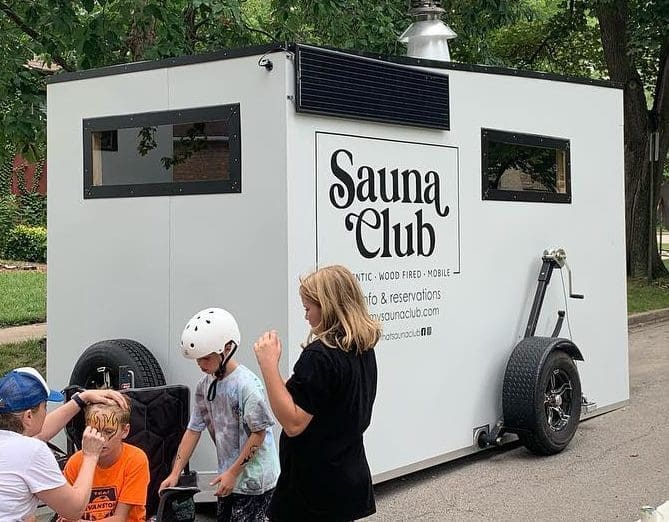 Ryan, a sauna enthusiast and community builder, started inviting friends and neighbors into his backyard sauna, which quickly became The Sauna Club and outgrew his backyard.
Ryan's vision was to share the authentic mobile sauna experience and show his kids that you can build a business doing what you love. In the summer of 2022, Ryan purchased a state-of-the-art mobile sauna from Voyageur Saunas in Minnesota and began offering mobile sauna deliveries and sauna sessions at public spaces.
Ryan partnered with SaunaShare.com to get the website and booking platform up and running and launched in September at Scandinavian Days.
Check them out at MySaunaClub.com
Portable Sauna Chicago
If you want to take your sauna experience to the next level, check out Portable Sauna Chicago. Offering full catering for events and small gatherings, this company has merged sauna and food in a brilliant way. When you rent a sauna tent from them, you have the option of a full menu of barbecue and authentic Ukrainian and American dishes.
Portable Sauna Chicago offers three different sizes of tent sauna (the largest fits up to 12 people!) and a mobile barrel sauna (fitting up to 8 people). The barrel sauna comes with a wooden cold water tank to refresh between rounds. Let them set up and stoke the sauna at your favorite park and enjoy the special occasion with top-notch catering all from the same vendor.
Traditional Saunas and Bathhouses in Chicago
For a more traditional sauna experience, visit the Chicago Bath House Sauna, the oldest continuously operating sauna in Chicago, and one of the few old world saunas still operating in the US. The hot rooms have brick or granite ovens and more thermal mass than you've probably ever experienced.
Sky Spa Sauna
Sky Spa Sauna in Chicago is a must-visit destination for sauna enthusiasts.
This authentic Russian banya/sauna boasts massive Belgian granite ovens filled with over 8,000 pounds of rocks, providing amazing heat and steam in the cavernous wet sauna that can fit up to twenty people on the top benches alone. The dry sauna is equally impressive. After a good sweat, cool down in the ice-cold rain showers and a massive 30 x 8-foot cool pool.
Sky Spa also has a large outdoor pool, a private party room with a personal Himalayan Salt Cave Sauna, and a full-service restaurant that offers fantastic Russian cuisine. The facilities are spotless, and the service is excellent. Highly recommended for families and couples, the location is good for anyone coming from the north, just five minutes from Interstate 294.
Aire Ancient Baths
If you're looking for something truly unique, Aire Ancient Baths is the perfect place to relax like an ancient Roman in a restored factory in the West Loop of Chicago. Aire is more than a spa, but it's not a traditional sauna. Yet we can't get over the one-of-a-kind fusion with exposed wood beams, industrial columns, and exposed brick of an old factory with magical saltwater pools within. It's quite the place to kill a day alternating between bathing and massage in Chicago.
While there are plenty of infrared saunas and gym saunas in Chicago, we urge you to try an authentic sauna or bath house experience. There's very little comparison between a sauna that is 200 degrees with thermal mass and steam and an infrared sauna or dry sauna you find at the typical gym. Several gyms, especially crossfit gyms, are starting to put authentic wood fired saunas outside their space for a true sauna experience – but so far there are none in Chicago
Buy a Sauna in Chicago
If you're looking to buy a sauna in Chicago, SaunaMarketplace.com has you covered.
Most of the products on Sauna Marketplace, including Harvia, HUUM, Thermory, and Amerec products ship out of Wheeling, Illinois – just outside of Chicago. You can have all the materials you need for a custom sauna built, a barrel sauna, etc delivered in days.
We also partner with the best sauna builders in Chicago and the surrounding areas that can build custom indoor and outdoor saunas.
Conclusion and FAQ
In conclusion, Chicago's sauna scene has something for everyone, from traditional old-world saunas to state-of-the-art mobile saunas and everything in between. Whether you're a seasoned sauna enthusiast or a curious beginner, Chicago has a sauna experience that will meet your needs. So don't hesitate to book your sauna session or sauna tent with catering delivery and experience the unique blend of culture, food, and relaxation that only Chicago's sauna scene can offer.
What is a platza experience? A platza experience is a traditional Russian massage technique that involves gentle beating with birch leaves.
What is the temperature of an authentic sauna? An authentic sauna is typically around 200 degrees Fahrenheit.
What is a mobile sauna? A mobile sauna is a portable sauna that can be transported to different locations.
What is thermal mass in a sauna? Thermal mass refers to the amount of heat stored in a material, such as brick or granite, that can help maintain a consistent temperature in a sauna.
Can I buy a sauna in Chicago? Yes, there are several options for purchasing a sauna in Chicago, including Sauna Marketplace, Finnish Sauna Builders and Accurate Industries.