The stove is the heart of any sauna, and choosing the type of heater is one of the biggest decisions you will make in building a sauna. While electric sauna heaters are convenient, nothing beats the ambience and warming heat of a wood burning sauna stove.
The best wood sauna stoves burn clean – often requiring a fraction of the wood as cheap alternatives. One sign of a good wood sauna stove is almost no smoke coming from the chimney after the sauna heats up. All of our recommended heaters are capable of achieving this milestone when used properly.
The rock capacity and length of firewood are also much more important than most people realize. It might be worth 'sizing up' your stove just to have more capacity for rocks and fuel.
North America has some amazing Finnish family companies like Nippa and Lamppa Kuuma. In addition to our recommendations, we recommend finding builders near you if you're lucky enough to have one.
Then of course there are well known companies like Harvia, and modern wood stoves from HUUM that you might see in a Dwell Magazine.
You'll get what you pay for, but honestly there is a stove for every sauna and budget. Pull the trigger on whatever you can afford because you can't get back that time you spent without a sauna. With that said, if you can afford a Harvia Legend 150, Kuuma, or Huum Stove they are well worth the investment.
So here are our reviews for the best wood sauna stoves on the market for any budget, including in stock, and 'available now' wood stoves in 2022.
Best Wood Burning Sauna Stove
#1 HUUM HIVE HEAT
The Best.
For the first year, the HUUM HIVE Heat is the our top choice among the best wood sauna stoves.
And for the first year, HUUM stoves are widely available in the US and Canada.
Best Rock Capacity
HUUM figured out how to double the rock capacity by building a rock basket around the entire stove.
The innovative HUUM Sauna Stove design is now used by Harvia and others because it's way better and has a nice modern look.
There is an option to feed the wood from inside the sauna (12KW) or as an outside-feed as pictured (12KW LS).
The stove holds 198 pounds of rocks, and fits 11.82 inch firewood.
Where to Buy a HUUM Wood Stove
For those in the US, HUUM now has an Amazon store where you can be sure you are buying from authorized sellers. Check it out here.

HUUM US Official Store
There's also an authorized seller on eBay with perfect reviews, in stock Huum Wood Stoves, free shipping, and the best prices.
#2 Harvia Legend 150
The Harvia Legend 150 is our runner up to the HUUM Hive Heat this year.
Harvia has a VERY full line products with many of the best sauna wood stoves. However, the Harvia Legend 150 is the best wood stove we've seen from them. Remember what we said about rock and wood capacity? The Legend is for people who know how important those are.
Also, the look of a rock basket, much like the HUUM wood stove above is very impressive.
Where to buy a harvia legend 150
Harvia Legend 150 wood sauna stoves are made in Finland, but are available to buy now in North America. In the US, your best options with fastest shipping are below.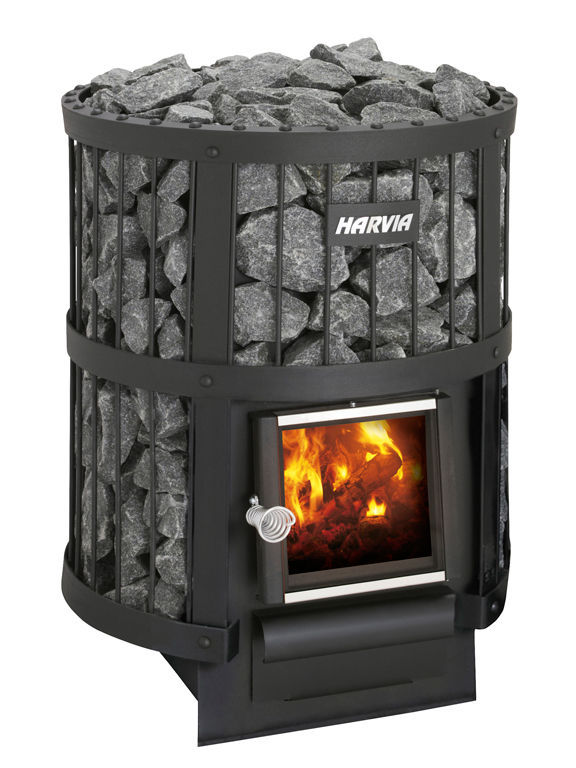 The Harvia Legend woodburning stoves give you the ultimate sauna experience. The large number of stones ensures good heat, even if the fire dies down in between. The fire chamber of Legend stoves has a modern grate structure that separates the combustion air.
$

1,990.00
3 new from $1,990.00
in stock
Best Small Wood Burning Sauna Stoves
#1 Harvia M3 Review
Top Choice: The classic yet modern Harvia M3 is THE best wood sauna stove (in our opinion) for smaller and medium saunas. It's the most imitated, and most popular sauna stove in the world for a reason.
It's the most affordable name brand sauna stove with a glass door which gives you the glow, smell and ambience you're looking for. They also have an outside feed option if that's your preference. The M3 won't break the bank, here are the best prices in the US for both interior and exterior feed.
in stock
3 new from $903.00
as of April 29, 2020 10:49 pm
AKA: Finlandia M3, Catalina M3, Hanko Premium M-3
For Saunas 65-460 Cubic Ft
Add-On Water Heater Tank
The Harvia M3 has an optional water heating tank that fits between the woodstove and the chimney pipe. This heats up water very quickly as the pipe goes straight through the tank.
This is the easiest way to heat water for showers while adding thermal mass to your sauna. The extra thermal mass is recommended for the M3 because it is relatively lightweight.
The benefit is that is heats up faster, but most people prefer the heat when there's more thermal mass.

Pros and Cons
Pros
PROS:

Great airflow through the rock tray
Easy to light and maintain fire
Clean and efficient
Löyly is great, especially with large stones

CONS:

Not enough room for sauna rocks
Takes a maximum length of 15.25″ firewood, when standard is often 16″
5/32″ steel thickness, many prefer up to 1/4″
Looks too modern-looking
Specs
UL and CE Approved
Width: 390mm
Height: 710mm
Depth 430mm
Weight: 45 KG
Stone Capacity 30 KG (66 pounds)
Heater Output: 16.5 kW
In conclusion, the Harvia M3 is great for small to medium saunas 6-13 cubic meters. It's a great choice for medium to small outdoor saunas, barrel saunas, and indoor home saunas up to 13 cubic meters.
Note: the Harvia M3 is often sold as the Catalina M3 in North America. Just like electric sauna heaters, this is mostly a case of a couple dominant brands (Harvia and TyloHelo) selling their products to other sauna companies to sell as their own.
Other Harvia Stoves
Harvia has a very large range (20+) of wood sauna heaters of all practical size for both home and commercial use. There are eight Harvia Wood Burning Stove models that are readily available in the US.
The M3 is the smaller of the models, and the Harvia 36 (AKA Catalina 36) is the largest for big saunas up to 120 square feet. Here's what's available in North America.
Best Handmade Wood Sauna Stoves
#1 Lamppa Kuuma Sauna Stoves
Kuuma Sauna Stove
Kuuma wood burning stoves are built like bank bank vaults and have a cult-like following.
They're made with 1/4″ reinforced steel and probably the best welding on the market. Built like absolute tanks.
Check out Kuuma sauna stoves here.
Built in Northern Minnesota, Kuuma Sauna Stoves have a cult-like following in the Midwest.
They have a precise air control system that gives the operator complete control of the burn.
The most impressive thing about the Kuuma is how little fuel it consumes and how quickly it heats up a sauna. It takes one load of wood as little as 30 minutes to reach sauna temperatures.
Additional options available include a hot water coil, hot water tank (12 or 16 gallons), integrated heat shields, glass window, optional ash pan, and a through wall throat extension for outside feed sauna stove.
Feeding wood from the outside will reduce ash inside the sauna and may be better if you want to build a more air-tight sauna. It also allows you to keep wood outside the sauna room.
The small and medium models accept standard 16″ logs while the large model can handle 24″ stock.
The optional hot water tanks will allow you to heat water for bathing, and provide additional thermal mass. The attach to either side of the stove.
Speaking of thermal mass, the Kumma stoves alone weigh in between 375-455 pounds before placing rocks. These stoves are so powerful they'll keep your sauna hot for hours after the fire is out.
Kuuma has a long history and many users boasting 20+ years of reliable use.
If you've ever listened to the podcast Sauna Talk or read Sauna Times, you know Glen over there is a big fan of Kuuma stoves. You can listen to his interview with Daryl Lamppa here. Daryl is a third generation stove builder and currently runs the business.
Lamppa Kuuma sells directly to customers from their website, they run between $1000 and $1500 without add-ons. .
Here's What Some People Don't Like About The Kuuma:
Slightly more complicated than the M3, geared towards advanced sauna users who like to have full control of fire.
All parts get extremely hot, fire gloves are recommended.
These stoves get so hot, even pouring water on the rocks should be done carefully to avoid scalding.
You may want to repaint the door with high temperature paint to keep it looking great.
Here's What's Reviews Say About The Kuuma:
"It's like loading wood into a tank"
Incredibly efficient burn – starts with little smoke and turns into no smoke at all.
"You'll be amazed how little wood you need with a Kuuma"
Requires half the wood that other stoves need for the same heat.
Great design, "in 3 years I've never seen a spark come out of the chimney".
"Love the front to back burn, keep hot coals towards the door and put new wood in back."
Looks incredible, well worth the money.
"Excellent customer service and sauna wood stove"
Kuuma Specs Specs
UL #1482 Approved
Air Tight
Manual here.
Baffled and Brick-Lined Combustion Chamber
Unique Front-To-Back Burn
#2 Nippa Sauna Stove
Other models: WB-18 WB-22, WB-24
w/ tank = WC-18, WC-22, WC-24
Nippa is a classic sauna heater company that's been building almost the same heaters since 1930 in Beulah, Michigan.
Like the Kuuma, this Nippa Sauna Stove has an armored feel and looks like they will outlast humans on this planet.
The base model has a base price around $1000 with optional heat shields, rocks, and an integrated hot water tank that holds 6 gallons of water on the side or rear of the stove.
You can also order any Nippa stove with outside-fire extensions if you want to feed your stove from outside the steam room.
The WB-18 weighs 230 pounds and can fit 17″ logs.
Like Harvia and Kuuma stoves, Nippa has users brag of using their stoves for 20+ years.
Nippa Sauna Stoves can be purchased at Superior Saunas. They can often be found on craigslist or Facebook marketplace as well.
Here's the only Nippa Stove review you need:
Gets the job done in righteous fashion.
Best Sauna Heaters Under $1000 Stove
Stoveman 13R
An affordable Estonian wood burning stove comparable to the Huum Hive series sauna stoves.
AKA Stoveman s-l500
It's hard to find an affordable wood stove with plenty of rock space and a glass door to the interior of the sauna. Look no further.
This inexpensive wood burning sauna stove is well-built and shipped from Estonia (2-4 week delivery).
It's recommended for 6-13 cubic meter hot rooms, and does not come with rocks. The Saunaman stoves have excellent airflow with six ventilation paths through the bottom of the heater.
Finnleo Sauna Stove Options
Now owned by TyloHelo, Finnleo has a full catalog of Finnleo Sauna Stoves that are very similar to Harvia. Still based in Cokato, Minnesota, Finnleo has extremely high quality stoves that are worth checking out. Unfortunately their online buying options are limited and it's hard to tell what's in stock.
Best Sauna Wood Stoves With Water Tanks
Heating water with your wood stove can be useful in multiple ways.
For one, the water next to the stove adds thermal mass, just like the rocks do. This provides a less harsh heat that lasts longer.
Water tanks are also useful. You can use the hot water for bucket showers, cleaning the sauna, and even tea. The best wood stove for sauna showers have a valve at the bottom and a way to attach a hose on top. If you can find a way to gravity feed the water from the tank to a bucket shower you will be glad you did. This is best achieved with a hot water tank built into the chimney pipe.
The Harvia M3 has an attachment for a hot water tank.
Best Wood Fired Sauna Stove in Canada
If you're in Canada, you can buy most of these options, and more.
in stock
as of April 29, 2020 10:49 pm
Sauna Wood Stove Clearances and Considerations
Your wood stove sauna and exhaust system need regular maintenance, depending on how often you use it, and the quality of wood. Read instructions for your stove for manufacturers recommendations.
Sauna builders should also follow local code and installation instructions for all sauna wood burning stove clearances between stove and combustable materials. Not following these guidelines is dangerous and can result in a dangerous fire.
Sizing your wood burning sauna is also a tricky matter that involves climate, sauna insulation, sauna air tightness, and user preferences.
Oversizing your wood burning sauna heater is not necessarily an issue if you have plenty of thermal mass and sauna rocks to spread the heat. More thermal mass will result in a more consistent sauna session that maintains heat long after the last log is fed.
Weight is a big consideration for mobile saunas, which need to have enough thermal mass for a traditional sauna but still be mobile and fit under weight restrictions. Mobile sauna wood stoves should be located in the center of the trailer whenever possible.
DIY Wood Sauna Stove
You can find good instructions and plans on eBay for how to build a wood burning, DIY sauna stove from scratch. You need some welding experience and equipment. While we're all for building a DIY Barrel Sauna from scratch, we don't recommend this project for most people. Get the Sauna Stove Plans PDF Below.
Frankly, you won't save much money on a homemade sauna stove anyway. There are some fun videos on Youtube about how to build a wood burning sauna stove we recommend.
What about a Propane Sauna Stove
While the debate over electric vs wood sauna heaters rages on, propane and natural gas heaters have been improved and increasingly make a lot of sense. For off-grid saunas, wood and propane stoves are your only good choices.
If you don't have a good source of firewood, don't want to put in the work of cutting firewood, or want a slightly cleaner burn then a propane stove might be the way to go.
Unfortunately there aren't many good options for propane or natural gas sauna heaters in the the US and Canada. We are currently rounding up some information from the dealers and will have a fresh post on propane sauna stoves soon!
Rocket Stove Sauna
Now we're really getting down the rabbit hole of wood burning sauna options. Rocket Stoves are absolutely amazing, and there's a lot of cool applications for them in off grid homes, greenhouses, and garages.
They're kind of the ultimate science experiment but they're also really useful for heating and use VERY little firewood.
Rocket Stoves are probably not the best for saunas, because they can take awhile to supply heat. They are better for keeping a large space warm for a very long time. If you had a public wood burning sauna it could make sense to have an appropriately sized rocket stove.
Used Wood Burning Sauna Stoves For Sale
You can often find used wood burning sauna stove for sale on eBay, Facebook Marketplace, or Craigslist. Be careful to make sure the metal is solid, it's best to do a hammer test to make sure it's not rusted out anywhere but the seller probably doesn't want you hitting the used stove with a hammer.
Also make sure you can buy the needed pipe attachments for the used wood stove at an affordable price. They might be discontinued or impossible to find. It's unlikely that you will have the same piping and clearance requirements as the previous owner.