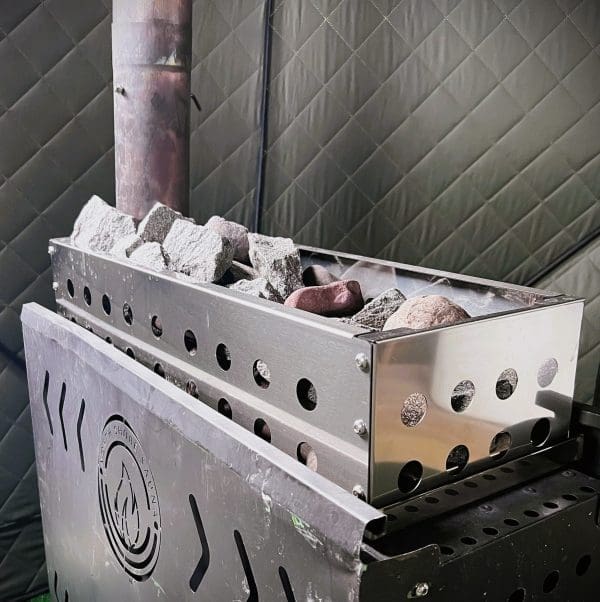 Best Sauna Tent
We did our homework and the best sauna tents are North Shore Sauna Prism (3-4 people) or the 6-8 person DOME.
Their top-tier stoves and customer service put North Shore firmly on the high bench.
Buy the best sauna tents here.
---
Wood-burning sauna tents like Mobiba and Morzh have been popular for years, especially with adventurers, extreme heat lovers, and athletes looking for an edge. Unfortunately for them all, war broke out as soon as the sauna tent movement started to take off. Even if you could source them, new sanctions make it unclear if they'd get held up at the border.
So when the health benefits of sauna tents gained steam, there was nowhere to buy them. War had broken out and Russian sauna tents from Mobiba and Morzh tents were impossible to buy and can no longer be trusted. It took a couple of years, but American, Finnish, and Canadian companies have filled the hole in the market, often with better products than their Russian counterparts.
North Americans now have many options with similar-looking sauna tents.
SweatTents, North Shore Prism (sold on Sauna Marketplace), Backwoods Glamping, Overland, Stokeyard Outfitters, and others have entered the market. The initial reviews are in, and the skepticism was warranted for several of these startup companies. Remember, Indiegogo, Crowdfunder, and other crowdfunding websites don't always deliver (to say the least)
It didn't go well for many of us early sauna tent seekers.
There are reports of shady business practices, sauna stoves melting, loose pipes, water leaking into fireboxes, and smoke leaking into tents from companies trying to cash in on the trend. We can say firsthand that these sauna tents were downright scary. Luckily, it's become clear which companies you can trust and who to avoid.
Why trust us?
Fair question. We sell sauna tents on this website, so wouldn't we recommend our products? Absolutely, but we chose to work with these companies after plenty of first-hand testing and research. We bought a lot of junk so you don't have to.
We were among the first customers of some of these companies when their sauna tents arrived. Our team at Sauna Marketplace has had sauna tents set up at home and in our vehicles since November. Our sister company, SaunaShare.com has seen sauna tent rental companies come and go, while the companies we recommend are growing.
The bottom line? At Sauna Marketplace, we sell what we recommend, not the other way around.
Sauna Tents – The Lay Of The Land
The sauna tents from SweatTents, North Shore Sauna, Stokeyard Outfitters, Backwoods Glamping (Out of Business), Overland, and aftermarket Chinese companies look VERY similar. Like Morzh, they are essentially modified ice fishing tents.
But what you can't tell from pictures is the quality of the poles, zipper, and windows.
Some companies cheap out in these areas. Suppose you buy a sauna tent direct from a Chinese manufacturer on Alibaba or AliExpress. In that case, there's a very high likelihood you are buying the version 1 prototype from one of the companies above. Expect off-gassing, broken zippers, and cracking windows if it gets cold enough.
And we wouldn't recommend buying a standard ice fishing tent and modifying it.
We tried that so you don't have to…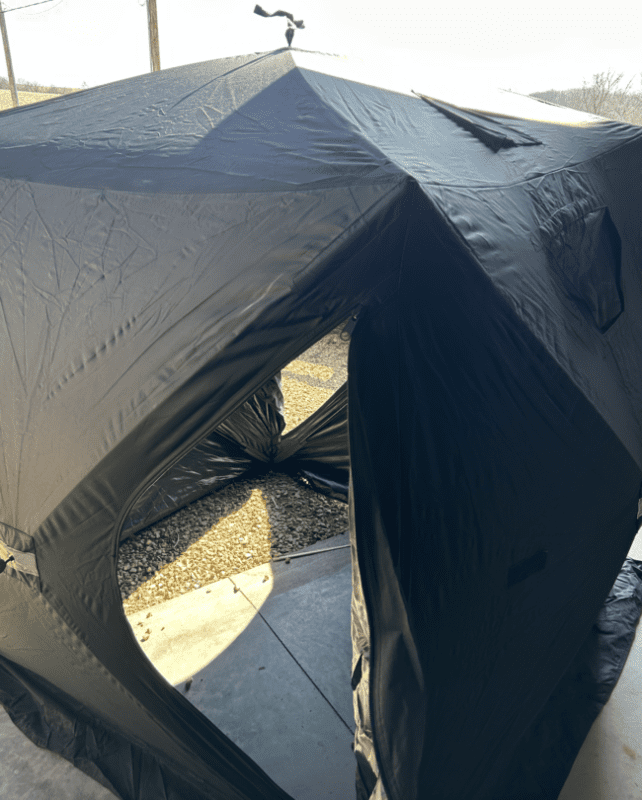 VEVOR Ice Fishing Tent
It off-gases so bad it would be unbearable and likely unhealthy to sauna in.
You can see how this tent is 'shiny' while proper sauna tents are made of canvas.
We do not recommend a DIY sauna tent approach with standard Ice Fishing Tents. Sauna tents themselves are not much more expensive and they are finally in stock and widely available in North America.
There are a few unique sauna tents. DOME, Snowtrekker, Arctinar (from Finland), and Airframes Alaska are unique.
Best Sauna Tents 2023
#1 North Shore Sauna Tents
Leading the American market in providing high-quality sauna tents, North Shore Sauna, based in Duluth, Minnesota, offers the unrivaled Prism Sauna Tent. A beacon of quality for the sauna tent community, North Shore's Prism has won accolades from satisfied customers and the 'International Disciples of Sauna Tent,' an unaffiliated forum for sauna tent enthusiasts with over 2,000 members.
Unboxing and setting up the Prism Sauna Tent is an effortless 20-minute task.
One of the standout features of North Shore is the Prism Sauna Tent Stove. We haven't seen any debate that this is the best sauna tent stove on the market. This tent stove surpasses the Morzh Intent sauna stove, making it a clear winner in terms of performance. Customers also have the option to buy a portable cedar sauna bench, a sturdy, foldable item that is perfect for the sauna tent setup.
The Prism Sauna Tent, now shipping with Version 2 upgrades, including a free rain fly and v2 stove, ready for users to experience the therapeutic benefits of a sauna amidst nature. Its lightweight construction, affordability, and superior performance make it the preferred choice.
On SaunaMarketplace.com, the Prism Sauna Tent receives only positive reviews for its roomy interior, thoughtful design, and easy setup process. The customer service is often praised, demonstrating North Shore Sauna's experience and desire to get the product right. We've seen this first hand, with replacement parts rushed at the first sign of an issue.
Whether set up in the backyard or taken along for an adventure, the Prism Sauna Tent offers an authentic sauna experience anywhere, anytime.
Our team has been using the North Shore Sauna tents since December and have little doubt it's the best sauna tent on the market. You can buy a Prism Sauna Tent here or the larger DOME model here.
#2 Arctinar Sauna Tents
This highly-regarded Finnish company, Arctinar has been selling the best sauna tents in Europe for years. They are not a Morzh design like North Shore, but a boxy event tent style. Great for larger public sauna events or winter camp. You may have also seen these tents as part of SaunaAid in Ukraine, where these sauna tents were sent to the troops and refugees.
Arctinar sauna tents from Finland are now in stock and available in North America. Buy them here.
#3 Stokeyard Outfitters Sauna Tent Reviews
Stokeyard saunas is a sauna company in Minnesota well known for their sauna events at the Hewing Hotel. They are releasing a sauna tent similar to the Prism Sauna Tent, that is available for rent in Minneapolis.
Their first stove apparently had some issues but Stokeyard can be trusted to make things right. Last we heard, they liquidated the remaining V1 Stokeyard sauna tents and stoves and will be relaunching under a new brand.
Sweat Tent Reviews
Sweat Tent was the most aggressive advertiser and the least known in the sauna tent community. They have been repeatedly called out on the Sauna Tent Disciples Facebook page as 'Unseemly' and 'Not to be trusted'. Candid feedback from unhappy Sweat Tent customers can be found on the Sauna Disciples Facebook page.
The conclusion is that Sweat Tent has some fantastic marketing but that's where the positivity ends.
The tents are similar in quality, but the stoves are suspect. Sweat Tent was an Indiegogo company, which means if they fail, you may not get your money back. We truly hope it works out for Sweat Tent customers, but if you still have a chance, some restraint may be in order based on the horror stories we are hearing. Here's an email we got today:
In addition, Sweat Tent has bullied other sauna tent companies and had highly questionable business practices. Based on Sweat Tent Reviews and first-hand experiences, we recommend avoiding Sweat Tent Saunas.
Snowtrekker Sauna Tent Reviews
Dimensions: 73″x91x53″ (sidewall)
Snowtrekker is one of the world's most respected backwoods winter camping companies. Based in Viroqua, Wisconsin, Snowtrekker released their Sauna Tents in 2022 to lukewarm reception in the sauna tent community. The tent is actually manufactured by Stormy Kromer in the Upper Peninsula of Michigan (known for their Yooper Hats).
First, it's important to note that the Snowtrekker sauna tent is in a different category than the new entrants. This is a larger, 'basecamp' style of sauna tent that may be better for events or long term deployments.
That said, the value proposition is confusing and it's not portable. In fact, we're not exactly sure what you're buying with the $4,200 sauna tent. They recommend you build your own structure from a hardware store.
The Snowtrekker sauna stove is affordable at $590 but doesn't seem portable. The door is not made for a public sauna's constant coming and going.
So, essentially you are buying the fabric for $4,200 and building your own sauna structure. Or $4,500 with the frame. Or $5,100 with the stove. We love Snowtrekker but are afraid they will have a hard time in this price range for what they are offering.
We got to experience one at the Winter Carnival last week, but await more Snowtrekker Sauna Reviews…
NOT RECOMMENDED AT THE MOMENT
Overland Sauna Tent Reviews
Overland Sauna was another unknown company that was heavy on marketing. Again, it seems they were a little over confident. Customers were left waiting for updates and had serious concerns about their purchases. It's safe to say they had a rough start but seem keen on making things right.
Overland Sauna Tent reviews for their stoves have been BRUTAL. The stoves are cracking and essentially falling apart. One recent review on the Sauna Tent Disciples facebook page shows an unusable stove with water pouring into the firebox and smoke oozing out a gap in the back of the stove.
The reviewer wonders out-loud if the stove went through any product testing before shipping them to customers. From the looks of it, you have to wonder. So far Overland Sauna has not released a new version of their stoves which seem to be extremely flawed.
When they don't completely give up on sauna tents, Overland Sauna customers often end up on Sauna Marketplace for a better experience.
I recently purchased the Overland setup and the stove all but failed on me in 5 uses (thin, cheap sheet metal that warped and even developed a hole)

Marketplace E-mail 1/10/2023
UNCONFIRMED Rumors were going around the Sauna Tent Facebook community that Overland was going out of business due to unresponsiveness.
Disappointing Turn With Backwoods Sauna Tent
We had high hopes for Backwoods Glamping based on its similar stove design to the highly respected North Shore Stove, and past customer experiences. Unfortunately, the company has recently taken a nosedive regarding customer service and communication.
The Founder/Owner has been unresponsive to customer inquiries for weeks, with some speculating that the company may be facing bankruptcy. The lack of communication and transparency from the company is disheartening and frustrating.
Customers have reported that they were told to file claims with their credit card companies to recover their money after the company failed to deliver on their promises. This approach is highly unprofessional and disappointing coming from a once highly regarded company.
Although some customers had positive experiences with Backwoods Glamping in the past, the current situation seems dire. The company's inability to obtain tents or stoves has led to speculation that they may be quitting the business altogether.
Additionally, there have been discussions about the quality and safety of their products, specifically regarding the rubber stove pipe jacks. Some customers have expressed concerns about their compatibility with single-walled pipes and the potential for leakage.
In conclusion, we can no longer recommend Backwoods Glamping based on its recent decline in customer service, communication, and product quality. It is a shame that a once-promising company has disappointed many customers. I hope they can turn things around, but until then, we would advise others to seek alternative sauna tent options. North Shore is now shipping to Canada to help the situation.
Best Morzh Alternatives in the US
So where does that leave us? Morzh sauna tents are impossible to get, and many of the best sauna tents keep selling out. The best bet is to stick with reputible companies run by people who have proven they strive for quality and take care of customers.
Beware of companies liquidating their stock and going out of business. It appears half of them are.
The best option for a small sauna tent, based on reviews and our experience, is PRISM. North Shore also has the best sauna tent stove (there's no debate there), and the DOME is promising for those looking for a larger tent.
We've had the PRISM set up at Sauna Marketplace HQ for 8 months and are happy to answer any questions. Please reach out if there's anything we can help with.