As 2022 drew to a close, Harvia introduced the Harvia Spirit, a sauna heater designed for small to medium-sized saunas, promising to reshape our sauna experiences. The product, resulting from "intensive research and development", combines functionality, aesthetics, and reliability, "defining a new era of sauna heaters."
So what is the Harvia Spirit? Well, the Harvia Spirit may look familiar to anyone familiar with Harvia's neighbors across the Gulf of Finland, where HUUM has been manufacturing the HUUM DROP since 2013!
Harvia's Spirit: A Response to the HUUM DROP
Comparing Harvia Spirit and HUUM DROP: A Detailed Look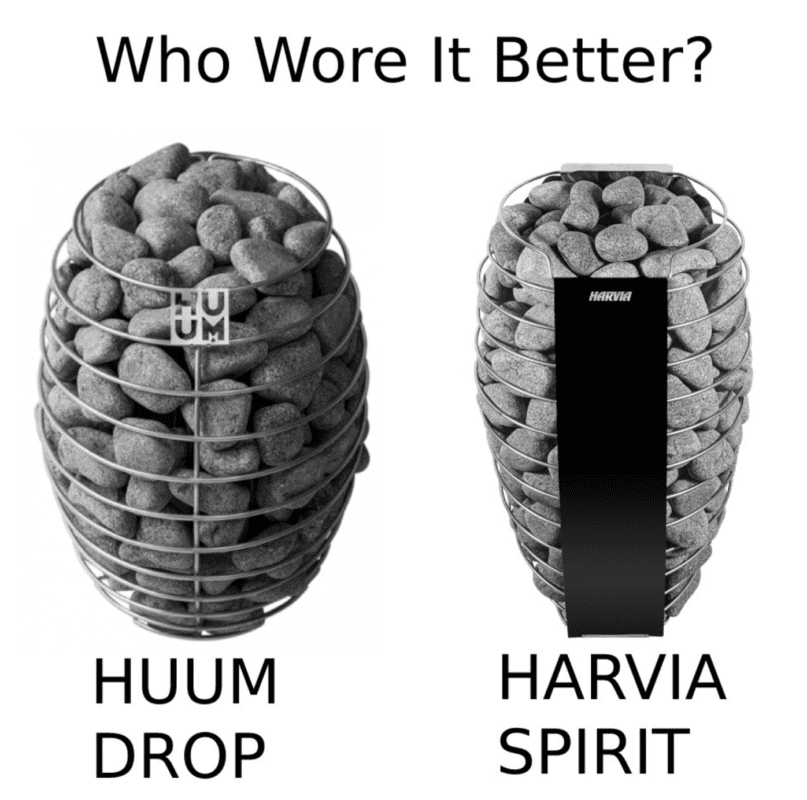 The Harvia Spirit and the HUUM DROP have garnered significant attention in the sauna heater market due to their similar look. Below, we comprehensively compare these two popular heaters, considering design, technical performance, user experience, and overall value.
Harvia Spirit Review:
Overall, the Harvia Spirit is a good value and a major improvement to Harvia's standard wall heater designs thanks to a greater rock capacity, lower installation, and minimal clearances. A more gentle, adaptable steam than the Harvia KIP, their most popular wall heater, is virtually guaranteed.
But is it better than a HUUM DROP?
Here is a table comparing the HSP604MXW model of the Harvia Spirit with the HUUM DROP 6.0 sauna heater:
| Specification | Harvia Spirit HSP604MXW | HUUM DROP 6.0 |
| --- | --- | --- |
| Kilowatt Rating | 6.0 KW | 6.0 KW |
| Minimum Cubic Feet | 177 CF (5 m³) | 177 CF |
| Maximum Cubic Feet | 283 CF (8 m³) | 353 CF |
| Heater Weight | 28.6 lbs (13 kg) | 24 lbs |
| Shipping Weight with Sauna Stones | N/A | 146 lbs |
| 240V, Single Phase Amperage | N/A | 25 Amps |
| Circuit Breaker Amperage | N/A | 30 Amps |
| Wire Size | N/A | 10 AWG |
| Width | 15.2″W (385mm) | 15.4″W (390mm) |
| Depth | 13.1″D (334mm) | 13.2″D (335mm) |
| Height | 27.0″H (687mm) | 23.3″H (590mm) |
| Included Items | Sauna heater, standalone digital control panel with WiFi function | Sauna heater, wall-mount bracket, installation and operation manual |
| Unique Features | MyHarvia WiFi for remote use | Unique water drop design, direct contact between stones and heating elements |
| Warranty | 24 months (Consumer), 3 months (Professional), 12 months (Community) | Limited 5-year warranty (excluding elements) |
Note: Since some specific details for the Harvia Spirit HSP604MXW like single phase amperage, circuit breaker amperage, and wire size were not provided, they are listed as N/A (Not Available) in the table above.
This comparison should provide a clear view of the similarities and differences between the Harvia Spirit HSP604MXW and HUUM DROP 6.0, helping potential buyers make an informed decision.
Saunalogia Harvia Spirit Review
The Harvia Spirit was rigorously tested and reviewed by Lassi Liikkanen of Saunalogia. Lassi wrote the most trusted book on Finnish Sauna Design (buy it here), and takes a scientific approach to sauna testing.
Here's our summary of his findings:
The Harvia Spirit electric sauna heater is a unique blend of style and efficiency, perfect for those who appreciate an understated design that doesn't overpower the sauna interior. Its compact form factor, similar to a corner heater, allows it to fit in smaller spaces.
The Harvia Spirit can also sit low to the floor, allowing for a better sauna design with lower benches.
The Spirit heats up quickly, often achieving optimal temperatures in less than an hour, demonstrating significant energy efficiency. One standout feature is its strong initial löyly (sauna steam), which mellows out on subsequent water pours, offering a unique sauna experience.
However, it has room for improvement in achieving even heating on its sides. Its control panel could be more user-friendly, and stone installation may be tricky.
A remarkable attribute is its lower energy consumption than its 9 kW counterpart. While the Spirit's upfront cost is relatively low, its rounded stones are pricier than conventional ones, adding to its lifecycle cost.
Despite being pricier than the most affordable options, the Spirit's performance and design qualities make it attractive.
Compared to other heaters in Harvia's range, the Spirit holds more stones, is easier to place, and offers superior löyly potential.
Design
Harvia Spirit's design philosophy pivots on an understated presence, focusing on being a sleek, asymmetrical heater that blends effortlessly into the sauna environment. It's intended to be more of a wall ornament that adds sophistication and style without dominating the space.
On the other hand, the HUUM DROP is known for its bold and unique aesthetic. Its drop-shaped design has been a standout factor in the industry, winning it a loyal fanbase. Nevertheless, the latest online polls from Sauna Marketplace indicate a slight preference for the Spirit's more subtle design.
Performance and Durability
Harvia Spirit's innovation lies in its metal duct structure, which protects the resistors while efficiently conducting heat. This design ensures the stones aren't in constant contact with the resistors, improving overall performance and longevity. The Spirit also excels in its heating capabilities, offering a rapid heat-up time while accommodating many stones.
The HUUM DROP has had issues with heating elements failing prematurely. Despite this setback, HUUM has shown resilience and a commitment to improvement by developing a frame that aims to hold the elements securely in place, potentially mitigating the issue.
User Experience
Harvia Spirit offers a modern, globally appealing design complemented by remote operation via a mobile app, providing users with an excellent blend of traditional sauna experience and modern convenience. The initial setup and stone installation may require patience and technical understanding, but the resulting experience is worth it.
The HUUM DROP, despite its aesthetic appeal and impressive performance, has had a mixed reception regarding its user experience. The reported premature failure of heating elements has caused some dissatisfaction among users. However, it's important to note that HUUM's forthcoming frame could potentially address this issue.
Overall Value
Harvia Spirit while priced slightly higher than the market average, provides a valuable blend of design, functionality, and performance. The Spirit's aesthetics, heating efficiency, and user-friendly features such as remote operation, offer good value for the investment.
The HUUM DROP, with its unique design and performance, also holds a competitive position in the market. Yet, its issues with heating element durability have impacted its overall value proposition. The release of the new frame could boost its standing.
Conclusion
While both heaters have their unique strengths and weaknesses, Harvia's Spirit emerges as a promising contender in the market, especially in terms of its design, performance, and usability. Its subtle aesthetic appeal and efficient heating capabilities make it a versatile choice for many sauna enthusiasts. Despite this, the HUUM DROP with its distinctive design and forthcoming enhancements, can't be discounted and remains a strong competitor. The choice between the two often comes down to personal preference, with design aesthetics and user experience playing significant roles.
Addressing the Heating Element Issues of the HUUM DROP
While the HUUM DROP has been plagued with premature heating element failures, they are set to release a new frame to address this issue; the Spirit, in contrast, has been designed to preempt such concerns with its unique heat-conducting metal duct. Thus, the Spirit not only learns from the past issues of its competitors but innovates to avoid similar pitfalls.
Unveiling the Harvia Spirit
The Concept and Inspiration Behind Spirit
Taking cues from the design aesthetics of the Harvia Globe heater, the Spirit embodies a vision of refinement and elegance, realized after ten rounds of rigorous design revisions. The asymmetrical form factor adds a touch of modernity, setting it apart from traditional sauna heaters.
Power Options and User Control
Offering power options of 6 and 9 kW, the Spirit assures rapid and efficient heating and a convenient user interface that combines a traditional external control panel with a mobile app. This two-pronged approach to user control ensures maximum comfort and convenience for sauna users.
Our Harvia Spirit Review and Deep Dive
Harmonizing with the Sauna Environment
With its sleek and modern design, the Spirit seamlessly integrates into any sauna environment, adding an elegant touch without dominating the space. This thoughtful design approach elevates the entire sauna experience, making the Spirit more than just a heater—it becomes an integral part of the sauna environment.
The Emerging Trend of Design Heaters
Spirit's global appeal and contemporary aesthetics have positioned it in the rising niche of 'decorative' or design heaters, heralding a new era in sauna heater design. The Spirit proudly champions this evolving trend as the line between functionality and aesthetics continues to blur.
An Exploration of Spirit's Technical Specifications and Performance
Safety and Heat Generation
Safety and robust heat generation were paramount in the Spirit's design, allowing it to accommodate a generous capacity of 60 kilograms of stones. The Spirit ensures safety without compromising performance by keeping the rocks from constant contact with the resistors.
The Spirit's Unique Features and Advantages
The Spirit boasts a unique heat-conducting metal duct that provides dual functionality – protecting the resistors while promoting efficient heat distribution. This allows the Spirit to achieve quick heating times while maintaining a desirable level of safety.
Installation and Usability: The Spirit User Experience
The Setup and Installation Process
While first-time users may need some time to get accustomed to the Spirit's setup and installation, detailed instructions provided by Harvia make the process straightforward and manageable. Patience and attention to detail are essential during the stone installation process, but it becomes a breeze with clear guidance.
User Control Options and Usability
Accompanied by the Xenio Wifi control panel, the Spirit offers both manual control and remote access through a mobile app, catering to a wide range of user preferences. Whether you're tech-savvy or prefer traditional controls, the Spirit easily accommodates your needs.
The Global Aspirations of Harvia Spirit
Looking forward, Harvia intends to bring the innovative Spirit sauna heater to a broader international audience, with plans to enter the US, Canada, and Asia markets by the end of 2023. With four product variants suited to different sauna sizes and power requirements, the Spirit aims to meet diverse user needs globally.
Evaluating the Harvia Spirit: Strengths and Areas for Improvement
The Strengths of the Spirit
The Harvia Spirit offers several advantages to sauna enthusiasts, from its chic design and efficient performance to its innovative remote control capabilities. It reflects Harvia's dedication to producing top-quality, durable, and stylish sauna heaters, ensuring it satisfies even the most discerning sauna lovers.
Considerations and Potential Improvements
Despite its many strengths, the Spirit does come with some considerations. The initial setup might pose challenges for non-tech-savvy users, and careful placement is needed during stone installation. The control panel's usability and overall user experience could also benefit from further enhancements.
Detailed Specifications of the Harvia Spirit
Harvia has released several versions of the Spirit sauna heater, each catering to specific user groups and power output requirements. There are four primary models for households: HSPE904M, HSP604MXW, HSP904MXW, and HSPE604M. Each model provides distinct control options and is specifically designed for wall installation in interior, wet-area environments.
Power Output and Control Type
The power output of these heaters varies between 6kW and 9kW. Models HSPE904M and HSP904MXW offer a 9kW power output, while HSP604MXW and HSPE604M are at a slightly lower 6kW.
Depending on the model, control is handled either by a separate control unit or by a standalone digital control panel included with the heater, which features a WiFi function. Models HSPE904M and HSPE604M are controlled by a separate control unit, while HSP604MXW and HSP904MXW utilize the digital control panel.
Material and Color
Each model is manufactured using steel, ensuring robustness and durability. They are all available in black, further reinforcing the sleek and modern design philosophy of the Harvia Spirit series.
Dimensions and Weight
All models share identical dimensions: 687mm in height, 385mm in width, and 334mm in depth. The net weight ranges from 11 kg to 14 kg, depending on the model. The stone amount is consistent across all models, accommodating 60 kg of stones sized Ø5–10 cm.
Safety Distances
Safety distances vary slightly among models, with most requiring 80mm or 60mm distances from front, side, and right and left sides (combustible and non-combustible materials). All models require a safety distance of 900 mm from the ceiling and 100 mm from the floor (both 3-phase and 1-phase).
The minimum height for assembly is 100 mm for models HSPE904M and HSPE604M. Similarly, the installation opening height is 1900 mm for all models, but the width and depth vary.
Warranty
Regardless of the model, Harvia offers a 24-month warranty for consumers, a 12-month warranty for community use, and a shorter 3-month warranty for professional use.
User Environment and Energy Source
All models are intended for use in interior spaces designated as wet areas. They operate using high-voltage electricity (400V/230V 1/3N~) as the primary energy source.
Remote Use Options
Models HSP604MXW and HSP904MXW offer remote use options through MyHarvia WiFi.
In conclusion, the Harvia Spirit offers a variety of models, each with a unique set of specifications catering to different needs. Whether it's the power output, control type, or the safety distances, each element is thoughtfully designed, reinforcing Harvia's commitment to providing an optimized sauna experience for different user groups.
Hello, I was wondering if you might have any insight regarding the Harvia Spirit sauna heater and when we can expect it to be available in North America? Thanks!
There are rumors that Harvia could release the Spirit in the Fall of 2023, but nothing is confirmed. UL Listings can take years, so the timeline is very uncertain.
In Conclusion: The Spirit's Bold Step Forward
The Harvia Spirit represents a bold step forward in the evolution of sauna heaters. As it stands, the Spirit is an impressive blend of design, functionality, and user-friendly features. It demonstrates that innovative solutions can deliver exceptional products that meet customer needs and exceed expectations despite challenges.
Availability
In North America, you can only buy the HUUM DROP. It's available on Sauna Marketplace with the 'SAUNA' guarantee:

The SaunaMarketplace.com Guarantee:
Secure, encrypted transaction
Authentic products from authorized sellers
Unbeatable prices: find better within 30 days, we pay the difference
Never infrared—we sell traditional saunas, with health-proven gentle steam enjoyed for millennia
After-purchase support