If you're in the market for a home sauna, Almost Heaven Saunas is a popular brand renowned for its quality and craftsmanship. They are owned by Harvia, one of the most trusted Finnish brands in sauna. In this blog post, we'll delve into Almost Heaven Sauna reviews, examining the pros and cons of their barrel saunas and traditional saunas.

We'll discuss where they land flat and when to look at other options.
TLDR, start here for alternatives using thermally modified wood, European design, thicker wood, better quality control, and a more authentic sauna experience.
The Good:
40 Years of Experience
Almost Heaven Saunas have been around for 40 years.
Made in USA
Many popular companies in the US and Canada, like Redwood Outdoors, advertise Canadian Cedar but their barrels are milled in China. 
Almost Heaven saunas are manufactured in the Greenbrier Valley of West Virginia and have offices in Michigan.   Owned by Harvia: Harvia bought Almost Heaven in 2018 to get a foothold in the US market.  Finnish people say there's only one cedar sauna in Finland, and it's an Almost Heaven barrel sauna at Harvia's office.  
Ease of purchase
There's been an on-again-off-again Almost Heaven Sauna Costco relationship for years that has helped barrel sauna to reach a new audience of Costco shoppers who have made the Costco Almost Heaven 3-person sauna a best seller.  And no, we don't recommend buying a sauna at Costco.   
The Bad:
Several companies on SaunaShare attempt to use Almost Heaven saunas for mobile rentals.
It has failed every time, with the sauna inevitably loosening and warping over time.
The wood used on Almost Heaven just isn't wide, consistent, and durable to hold up, which reflects the wood choices they use.  And it's not just barrel saunas.
While not as bad as cheap Chinese barrels, Almost Heaven doesn't provide a roof with every barrel sauna, or make it clear that a roof is a requirement.  
The result is barrel saunas looking terrible after a couple years, and reflecting poorly on all barrel saunas. In addition, the Almost Heaven sauna reviews on Amazon were so bad they eventually pulled the products. The main problems seem to be inconsistent heating and limited customer support.
However, the primary issue in both cases is warping/leaking wood that caused these problems that Almost Heaven couldn't keep up with.
Inconsistent Heating:
Some users have reported issues with inconsistent heating in Almost Heaven Saunas, which may affect the overall sauna experience.
Limited Customer Support:
A few customers have mentioned difficulties in contacting the company for assistance or concerns, potentially leading to frustration when issues arise.
The (Almost) Heavenly:
Wood Susceptibility: Some Almost Heaven Sauna reviews point out that the wood may be more susceptible to warping, expansion, or contraction over time, which could potentially impact the sauna's durability and appearance.
Additional Accessories: Almost Heaven sauna reviews often mention the lack of certain accessories, such as a rain jacket, lighting, and a floor kit, which are not included with the purchase of an Almost Heaven Sauna.  In our experience, all outdoor barrel saunas require a roof, and it's dishonest not to mention that.
Why You Should Consider Thermally Modified Wood Instead:
Thermal modification offers several advantages over traditional cedar:
Increased Stability: The thermal modification process enhances the wood's stability, reducing the risk of warping, expansion, or contraction.
Improved Durability: Thermally modified wood is more resistant to decay and rot, ensuring the longevity of your sauna.
Eco-friendly: The thermal modification process is chemical-free, making it an environmentally friendly option for your sauna.
Better quality control – The thermal modification process has been improved upon in Europe since the time of the Vikings, and they've gotten pretty good at it!  In the process of treating wood with heat and steam, imperfect boards are corrected or removed nearly 100% of time.  
Why Thermory and SaunaLife Saunas are a Great Alternative to Almost Heaven:
Thermory, a brand that utilizes thermally modified wood in their saunas, offers several additional benefits compared to Almost Heaven Saunas:
Included Accessories: Thermory saunas come with a rain jacket, lighting, and floor kit, offering additional protection, safety, and comfort.
Modern Design: If you're seeking a sleeker, more contemporary look, Thermory barrel saunas provide a modern aesthetic that complements any space.
Improved Ventilation: Thermory saunas feature an exhaust vent in front of the sauna, which helps circulate hot air for more even temperatures.
Almost Heaven Barrel Saunas VS SaunaLife + Thermory
As discussed, Almost Heaven Barrel Saunas come up short on durability, wood thickness, roofs, lighting, wood stability, and options.   Let's put them side by side.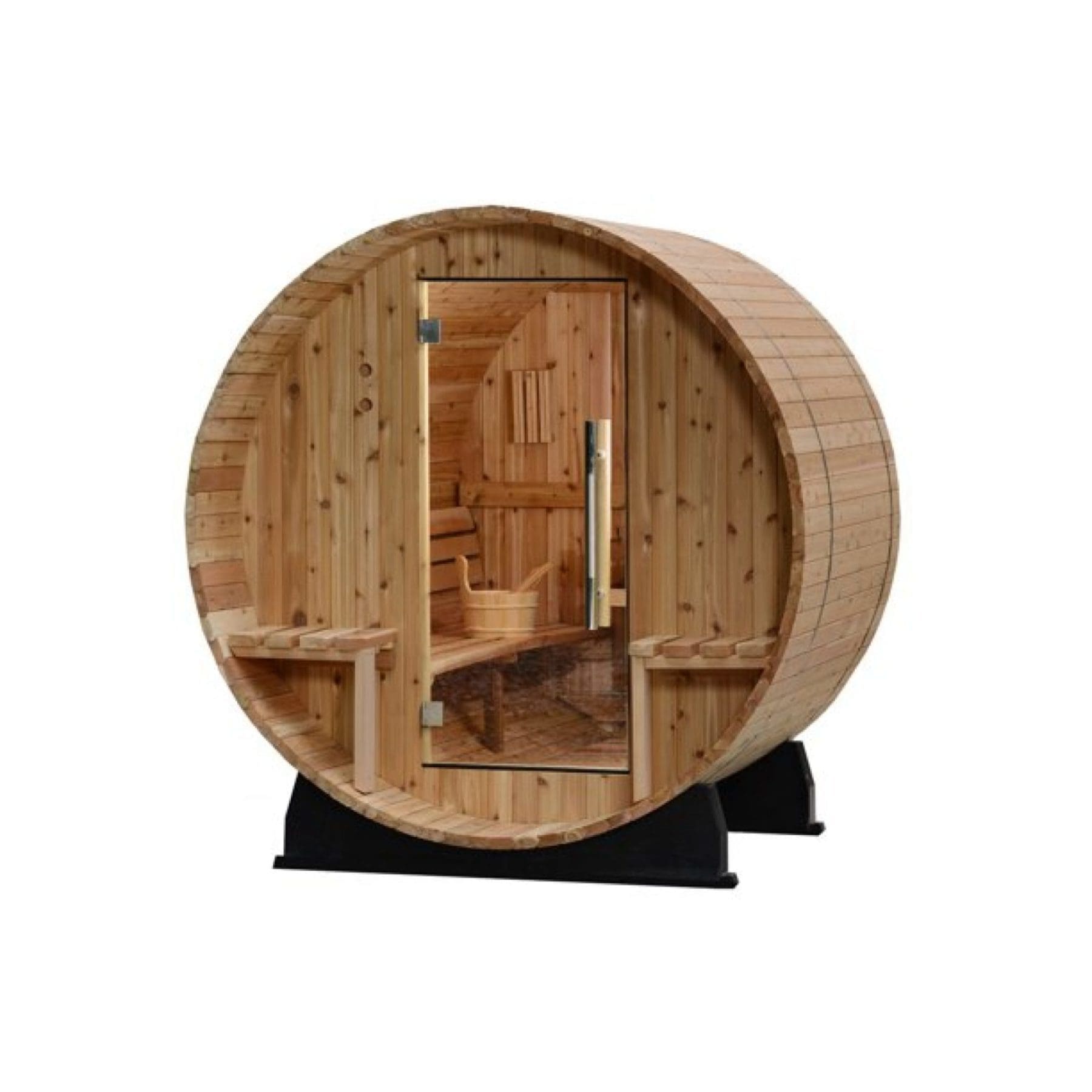 Almost Heaven Barrel Saunas
Pheonix, Shenandoah, Seneca, Pinnacle, Salem, Grandview, Huntington, Charleston, Vienna, Lewisburg, Princeton, Watoga, Salem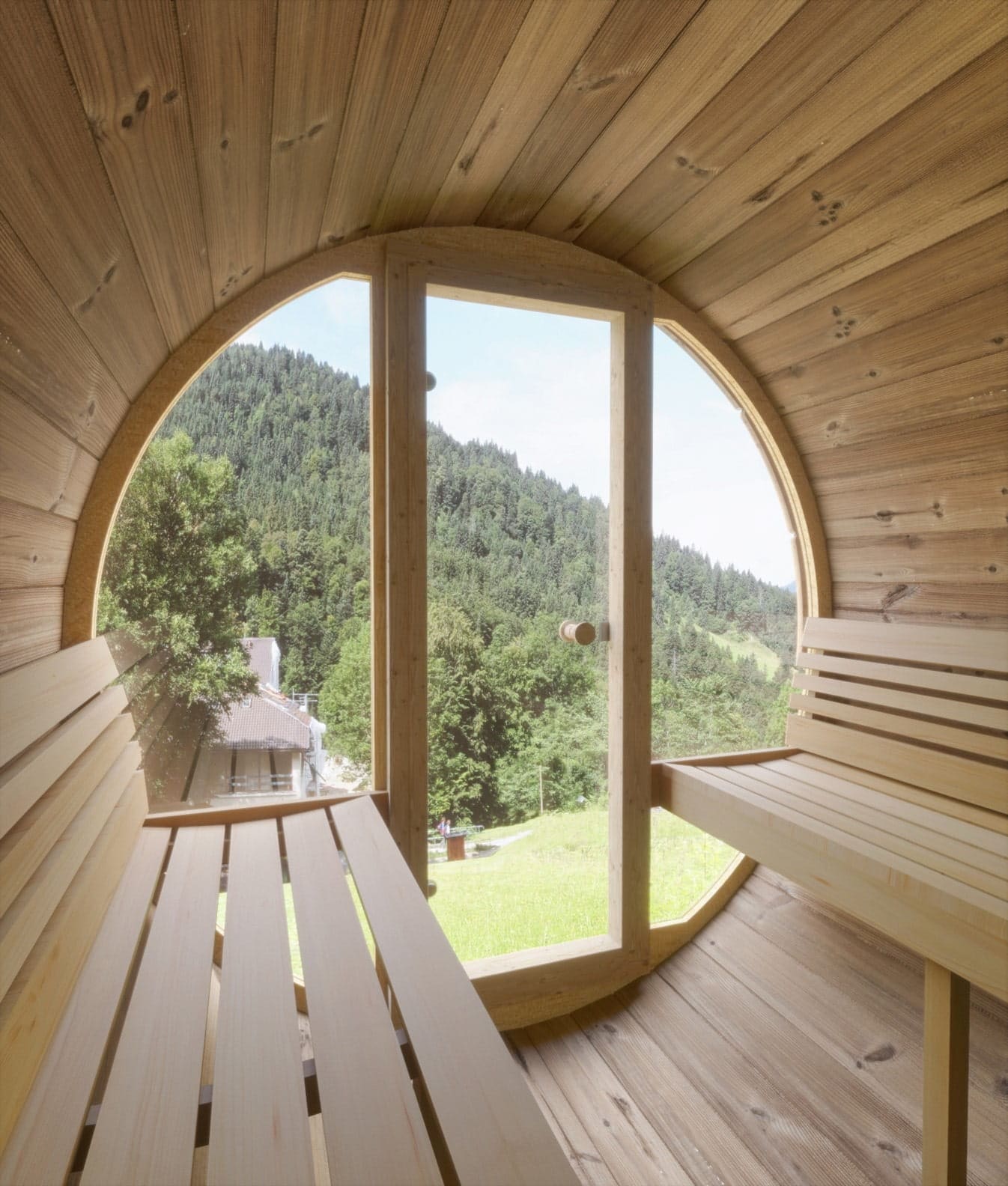 SaunaLife E7G, E8G, E6, E6W, E7, E7W, E8, E8W Thermory No 50, 51, 52, 53, 54, 55, 60, 61, 62, 63
Almost Heaven Himalaya Vs SaunaLife G6 with Saunum
In 2022, Almost Heaven released the Himalaya series, a 4 and 6 person sauna with himalayan salt blocks across the back of the sauna and a glass front wall.
Himalayan salt has several potential benefits including improved respiratory function, enhanced skin hydration, and reduced stress. These benefits, of course, can significantly enhance the sauna experience and spas have combined the two for centuries.
But if you want salt air to mix with the air, this is not the way to do it. If the the Almost Heaven Himalaya was effective, the salt would decrease over time.
The right way to introduce salt to a sauna experience is integrating it in the heater. In the US and Canada, the only sauna heater with integrated salt therapy is the Saunum Air.
The best alternative for the Almost Heaven Himalaya is a SaunaLife X6 with a Saunum Air which provides more even heat and real Himalayan salt therapy to the sauna.
Almost Heaven Himalayan Salt Sauna w/ Wall Heater
Almost Heaven Himalaya is an interesting indoor 4-person, 6-person, or corner sauna that has Himalayan salt block behind the benches. Unfortunately, salt therapy is unlikely to be effective in this configuration.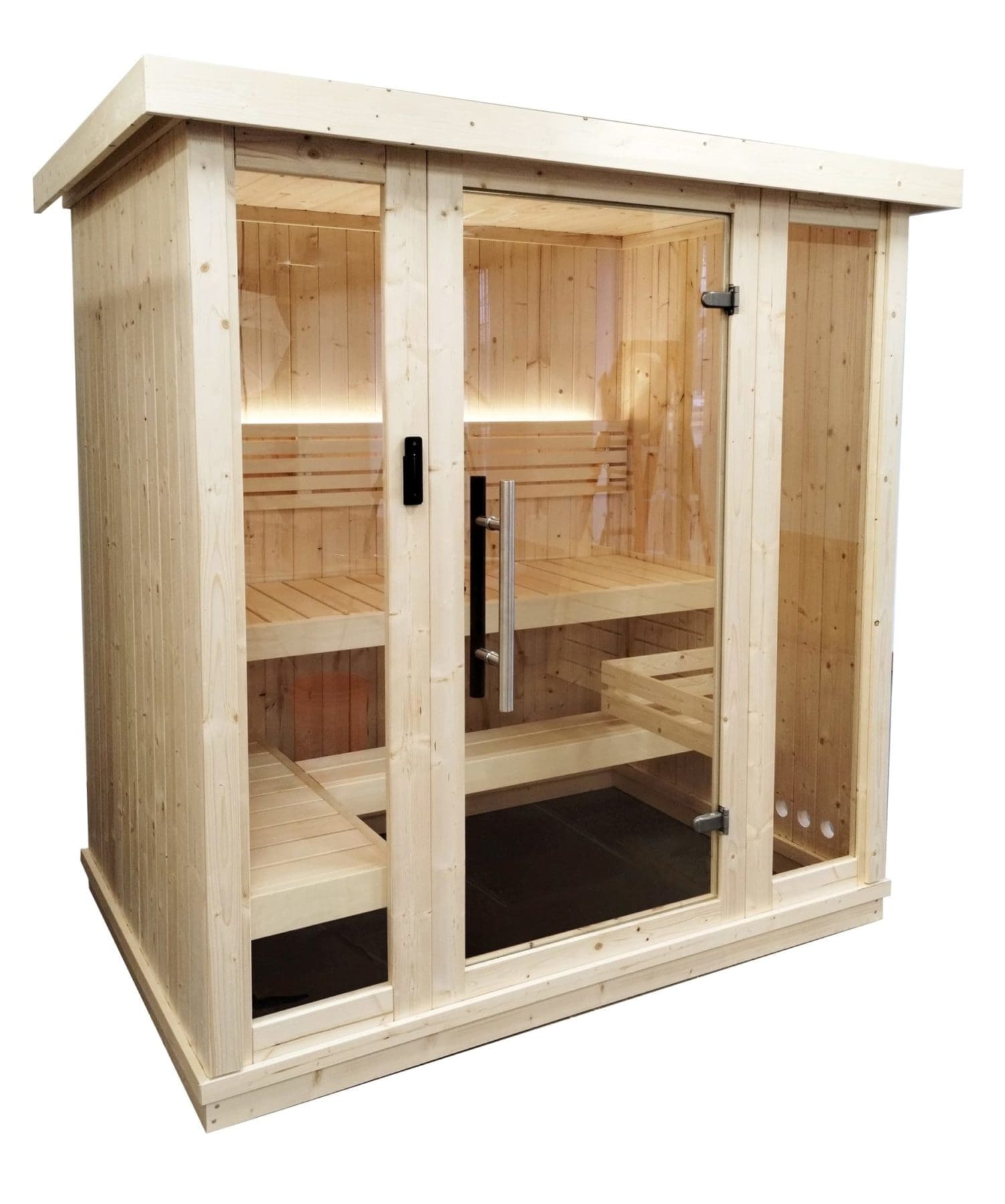 SaunaLife X7 with Saunum Himalayan Salt Therapy and Air Equalizing Sauna Heater
The SaunaLife with Saunum Air heater provides more options, more even heat, and real himalayan salt therapy in a single indoor sauna kit.
Conclusion
Almost Heaven Saunas offers a quality sauna experience with their traditional design and ease of assembly. However, after exploring Almost Heaven Sauna reviews, it's evident that there are a few areas where they could improve. By considering the benefits of thermally modified wood and the additional features provided by SaunaLife or Thermory barrel saunas, you'll be better equipped to decide when choosing the perfect sauna for your home.
Also consider checking out Facebook, Craigslist, and even Reddit for used Almost Heaven Sauna deals that pop up frequently. Barrel saunas are often stepping stones to larger custom saunas.
Frequently Asked Questions