Igloo Sauna, Pod Sauna, Raindrop Sauna - whatever you call them, they have always had one fatal design flaw.  They've been popular in North America due to their attractive shape, good headroom, and durability. However, we never sold them on Sauna Marketplace because they never met our sauna performance standards.
However, new technology could make them the most efficient, popular design in the world. What changed?
The #1 rule of Finnish sauna design has always been getting the bather's feet above the rocks.  It's not always achieved, but the closer, the better.
Though popular, the Pod sauna is the worst possible design in this regard.  By default, a pod sauna will leave the bather in the worst position in the entire sauna, where they will experience cold feet and a large temperature difference.
But a sauna heater now redistributes the best sauna conditions throughout the space.  And no sauna can benefit from it more than a sauna pod.
Meet Saunum Air Equalizing Sauna Heaters
Pod saunas spend most of their energy making the top pocket, where no human can reach, the hottest, most humid air. When we heard Saunum received UL standards for North America, we know pod saunas were going to become popular.
Saunum allows a pod sauna with one bench, or even a yoga pod sauna with no benches, to perform well and provide an envigorating experience at floor level.
For the first time, a pod sauna can provide a true Finnish sauna experience that could only have been experienced in a large sauna with 3 bench levels.
It wasn't easy to find, but one Pod sauna works with a Saunum Air sauna heater right out of the box.  This is likely the most affordable high-end sauna experience on the market.  
Our favorite pod sauna is the SaunaLife G3 Pod sauna. It has a full asphalt roof, thermally modified Nordic spruce, proper ventilation, great heat retention, and requires no maintenance.
They come from Northern Europe, and are truly built to not only last, but maintain their look and performance through the years.
This Pod Sauna in particular is spacious enough to stretch out, and even practice Yoga.
And it may not sound like much, but the thickness of the wood is 1.65" compared to 1.5" or less for other pod saunas. This makes a massive difference in longevity, performance, and ensuring it won't warp. It also increases the already excellent snow load capacity.
With a Saunum Air, the SaunaLife G3 is hands down the best pod sauna experience on the market..
Best Cedar Pod Sauna Kit - Dundalk CT MiniPod With Saunum Air 7
A Pod Sauna alone, with a standard heater, will always lack in sauna performance.
We found a perfect combination that brings Saunum technology to the Pod Sauna design and we couldn't be more excited about it.
As far as Pod Saunas go, the Canadian Timber MiniPod from Dundalk Leisurcraft is already as good as it gets.
Thick, Eastern White Cedar from the most trusted sauna manufacturer in Canada.  But the basic design puts the bathers feet on the floor, and even their head height is missing out on the best sauna conditions.
The Saunum Air 7 solves this by evently distributing the best sauna conditions throughout the sauna.  Now you can meditate, do yoga, and enjoy the bottom bench or floor while experiencing the full benefits of a traditional Finnish Sauna.  
Check out the CT MiniPod Sauna with Saunum Air 7, conveniently packaged and shipping for free here.
Saunum MiniPod
We didn't think a pod sauna would ever meet our standards. Meet the only pod with even, enjoyable conditions throughout.
BZB Igloo Sauna
If you're looking for the best pod sauna kit, consider the BZB Igloo Sauna. They source their unique, high-end sauna kits from Estonia.  
They even have mobile pod saunas available, perfect for SaunaShare rentals and taking your sauna with you.
In fact, you can try a BZB Cabin Sauna yourself in the New Jersey area on SaunaShare.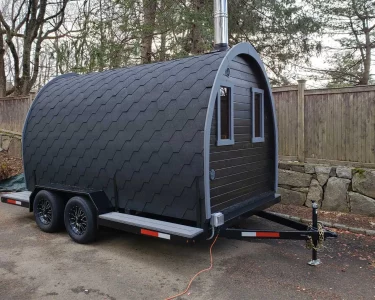 It offers a two-room sauna with a changing room and space for eight people.
They are usually in stock and shipped from New Jersey, making it a convenient and high-quality option.
BZB offers a discount code to Sauna Marketplace customers and SaunaShare partners! 
Use this link and use 'SaunaShare' discount code.  
Best Custom Pod Sauna - Timber Arched
For a top-of-the-line custom pod sauna, Timber Arched, based in Osakis, Minnesota, is an excellent choice.
This company uses an ancient method of steam-bending lumber and lambswool insulation, creating unique and authentic saunas with Kuuma wood stoves and western red cedar throughout.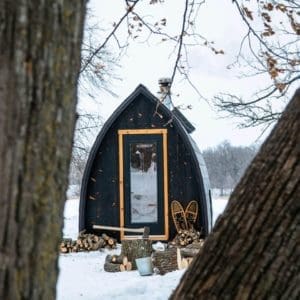 You can check request a quote from Timber Arched Sauna here, or rent one if you live in Minnesota.
Cheap Pod Saunas on Ebay and Amazon
You can often find a more affordable pod sauna on Amazon.
Aleko and other Chinese brands are popular.  However, customer experiences have not been good, and you don't know what you'll recieve.
If you're looking for a more affordable outdoor sauna, we recommend buying a barrel sauna or even a tent sauna.  
Catalog of Sauna Pods
The Sauna Marketplace community in the US and Canada now has access to some of the highest-quality sauna pods from Europe, thanks to KOTA Grills.
Options include Thermawood or Pine, Aspen or Black Alder Benches, and Electric or Wood Stoves from Harvia.
Fill out the form below to request a catalog.  
Benefits of a Pod Sauna
Compared to barrel saunas, pod saunas offer several advantages, such as:
No leaking issues
Better insulation
Improved thermal mass
Ability to stand up, with a 7′ height in the center
How to Assemble and Build a Pod Sauna
To assemble a pod sauna, you'll need:
2 people
Rubber Mallet
Carpenter's Hammer
6′ Step Ladder
Cordless Drill
Carpenter's Level
Tape Measure
Where to Buy and Pod Sauna Reviews
You can purchase a pod sauna through Sauna Marketplace, Costco (Canada only), eBay, and Amazon. Some top choices include:
BZB Igloo Sauna: Offers a two-room sauna with a changing room and space for eight people.
Aleko Pod Sauna: A basic yet effective model available on eBay.
RG Saunas Pod Sauna: Builds barrel and pod saunas in Ontario, Canada.
Timberin Saunas: Offers unique igloo saunas for European customers.
Mobile Pod Sauna: Both Timber Arched Saunas and Casa De Sauna offer mobile sauna pods.
In conclusion, pod saunas are a unique and enjoyable outdoor sauna experience. With various options and kits available, including the best pod sauna kit from BZB and the best custom pod sauna from Timber Arched, you can find the perfect pod sauna to suit your needs and preferences.
We recommend checking out SaunaShare.com to find a sauna rental where you may be able to test different sauna types and see what's best for you.  
When ready to buy, contact Sauna Marketplace to find Pod Sauna kits and builders near you.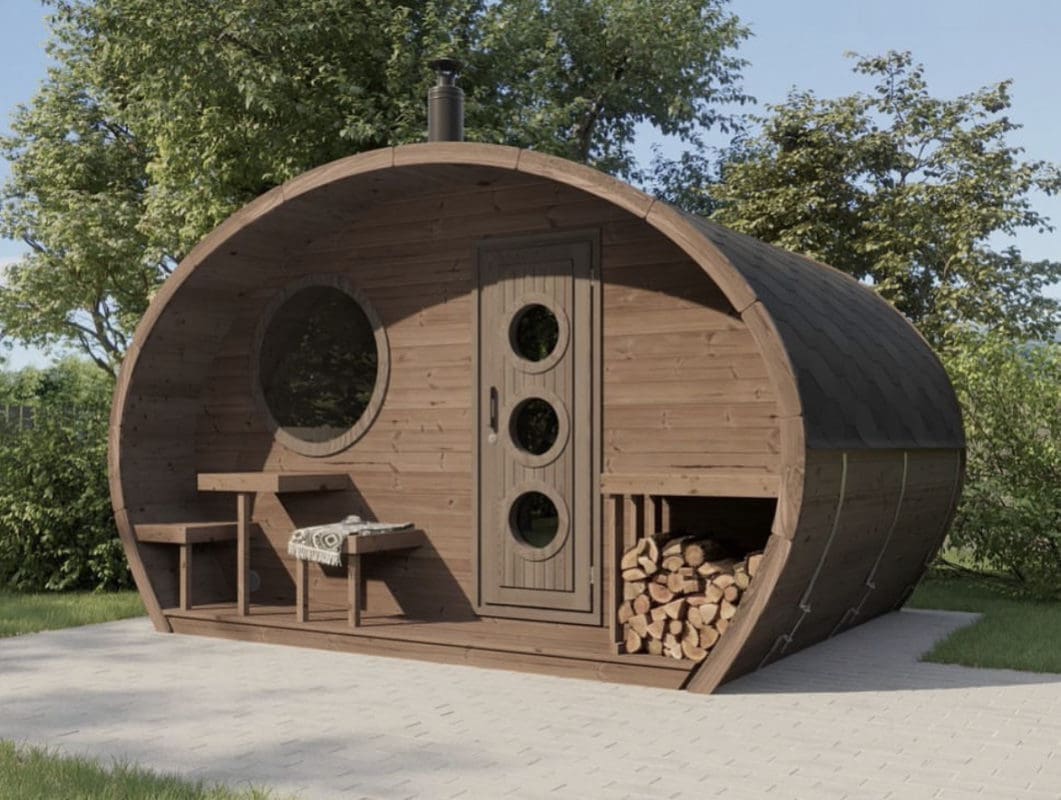 COMING SOON! 2 Room pod sauna with wood burning or electric stove from Europe. Get the details and early access here.