Readers of Sauna Marketplace are familiar with cooling down between sauna rounds, perhaps with a cold shower or rolling around in the snow. Still, there are benefits to taking cold exposure to the next level.
Many studies show the optimal routine and temperature for sauna and cold plunge rounds. If you are not cooling off in an ice bath or cold plunge for 15 minutes/week, you are not getting the full benefits of contrast therapy.
Finding the best cold plunge tub depends on your climate, height, and budget.
Many 'cold plunges' on the market are simply water containers that require a steady supply of ice and frequently changing the dirty water. They are too warm in the summer and freeze in the winter. They have little or no insulation, so keeping them temperature will likely cost more than the tub itself.
The most popular of these is Ice Barrel, which is a barrel without a chiller or filtration. The Ice Barrel is a good option for some, but be prepared to feed it with ice and clean water constantly.
Get $75 off your Ice Barrel purchase with Code: COLDTODAY
Might as well just buy the Ice Pod for $200 at that point. But we're getting ahead of ourselves…
The best cold plunge tub maintains the desired temperature, filters water, circulates, and insulates. They save time, money, and trips to the store to buy ice. You will save money in the first year by buying a cold plunge system, and use your cold plunge 10x more often if it's always ready to go.
Do you really want to spend half an hour preparing your ice bath every morning? Of course not, you have enough to do. It's time to find the best cold plunge tub for you and your life.
II. Factors to Consider When Choosing the Right Cold Plunge
A. Size
Most assume bigger is better, but you're not doing laps in your ice bath. You need to be completely submerged, and have enough room to dunk your head. Anything bigger is a waste of energy and space, frankly.
This guy is 6'4″ and fits comfortably in this Modtub Cold Plunge. You don't want to oversize your plunge.
B. Insulation
Insulation is the least considered and most important factor for any cold plunge. They can cut the electricity costs of running a cold plunge by a factor of 5. Don't believe us? Think about a really good Grizzly or YETI cooler. If you fill those with ice and beer, you will have cold beer for almost a month.
Compare that with putting the ice and beer in a cardboard box. They will be room temperature in 8 hours (and make a big mess).
Coolers have a continuous barrier of insulation, and air-sealed gasket. They have been perfecting this technology for years and have gotten unbelievably good at it. That's why cold plunge systems that start with giant coolers have such an advantage.
Many assume a cold plunge design built from scratch will be better, but they often leak, have poor insulation, and never have a gasket seal to maintain temperature. Plan on spending 2-5x more to run your cold plunge with a "new" design over those built on cooler technology.
When choosing a cold plunge tub, always make sure that the tub has insulation. Good insulation is like buying energy up front.
C. Filtration
A good cold plunge filtration system will help provide clean, clear water for your plunge. A good filter will trap sand, soil, silt, sediment, and even rust build up in your system. With a good filter, you can feel comfortable sharing a cold plunge system with multiple people without changing the water very frequently.
Look for a system that can filter down to 30 microns, with a replaceable filter.
D. Chiller
A chiller keeps your cold plunge at the desired temperature without adding ice. You can select your temperature down to 39F (on most chillers) and know your tub is ready when you are.
If you have system with good insulation, you can get away with a very small chiller (1/2 horsepower or less). The ModTub has such insane insulation that it can use a 1/4 hp chiller and have no problem reaching and maintaining 39 degrees f (plenty cold for the benefits).
E. Freeze Protection
Lastly, if you're in northern climates you actually need to worry about water freezing during the winter. Most cold plunge systems typically do not come with frost protection besides circulation.
If you're in a cold climate, choose a chiller with a built in heating like the Leisurecraft chiller system, available on the Baltic Plunge.
Circulation will help prevent freezing, but not if it's cold enough. If you experience weather where the high temperature is below freezing, you should consider a stock tank heater.
These are cheap, and easy. Stock tank heaters are made to keep animal water above freezing. That's all you need, and there's not much to it. If you live in a sunny location you can use a solar powered stock tank heater, especially with a battery back up. Or, simply run a cable to it on particularly cold nights.
For cold plunge systems, we recommend a floating stock tank heater with a built in thermostat, like this.
As with all electronics going to your cold plunge system, make sure the circuit is GFI protected!
III. Complete Cold Plunge Systems
A complete cold plunge system comes with filtration, circulation, and a chiller at minimum. If you're cold plunge doesn't do that, it's simply a water container, and you probably paid too much for it. Some cold plunges include heating, but that can also be easily added.
Baltic Cold Plunge from Dundalk Leisurecraft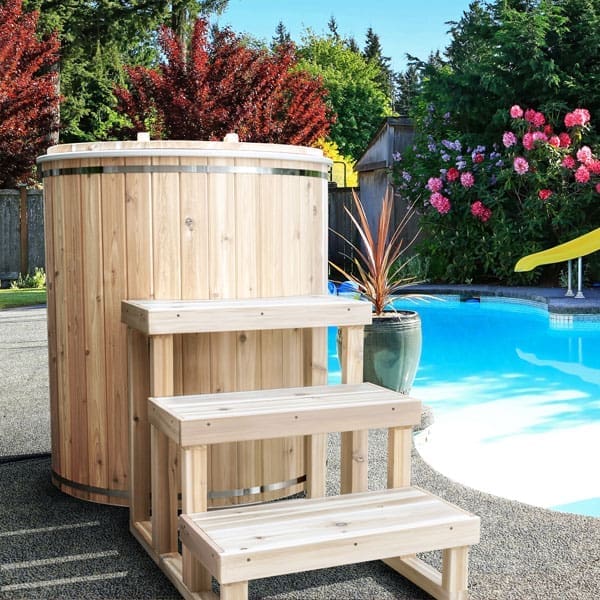 Let's face it, ice cold plungers are strange people, and most of the tubs we use reflect that: they're weird looking.
Give your significant other and neighbors a break and buy the cold plunge that would look good in any setting. Did we mention it's also the best-performing cold plunge and can heat?
The Baltic Cold Plunge is like an elegant looking Ice Barrel with better insulation, a chiller, heater, circulation, filtration, and more in one convenient package.
The Baltic Cold Plunge by Dunalk Leisurecraft is one such marvel. Priced at $2,291.00, here's why it's our top pick for the best cold plunge:
True Canadian Craftsmanship: This therapy tub is a seamless complement to the saunas in the Canadian Timber Collection. Handcrafted with Eastern White Cedar, its beauty is undeniable. And the fact that it arrives fully assembled, straight from Canada, means that it's ready to enhance your wellness journey right out of the box.
Versatility & Elegance: Whether you opt to use the electric chiller unit or prefer the traditional method of adding ice, the choice is yours. Wrapped in stainless steel bands and fitted with a robust HDPE liner, the Baltic Cold Plunge not only looks elegant but promises durability.
State-of-the-art Chiller System: Leisurecraft's chiller system is in a league of its own. It isn't just a chiller, but an all-in-one system combining chilling, ozone filtration, and water circulation. And it's not just about the cold – this unit can cool water down to a crisp 3° C and heat it up to a warm 40° C, making it perfect for those who fancy a hot soak after a chilling plunge.
Accessories to Amplify the Experience: From the red cedar steps that hint at luxury to the sink or float thermometer that ensures you always know your water's temperature, the optional add-ons are thoughtful and enhance user convenience. The water skimmer, with its removable soft grip handle, is a simple yet effective tool to keep your plunge pool pristine.
User-friendly & Efficient: This cold plunge tub simplifies the whole process. With plug-and-play setup and a heavy-duty frame mounted on castors, mobility and setup are a breeze. Plus, the ability to heat the water means you're getting a 2-in-1 tub – a chilly plunge pool and a warm soaking haven.
In conclusion, if you're in the market for a cold plunge that combines aesthetics, functionality, and quality, look no further than the Baltic Cold Plunge by Dunalk Leisurecraft. It's a masterclass in thermal therapy, and it's no wonder it's our top choice on SaunaMarketplace.com!
---
Best Portable Cold Plunge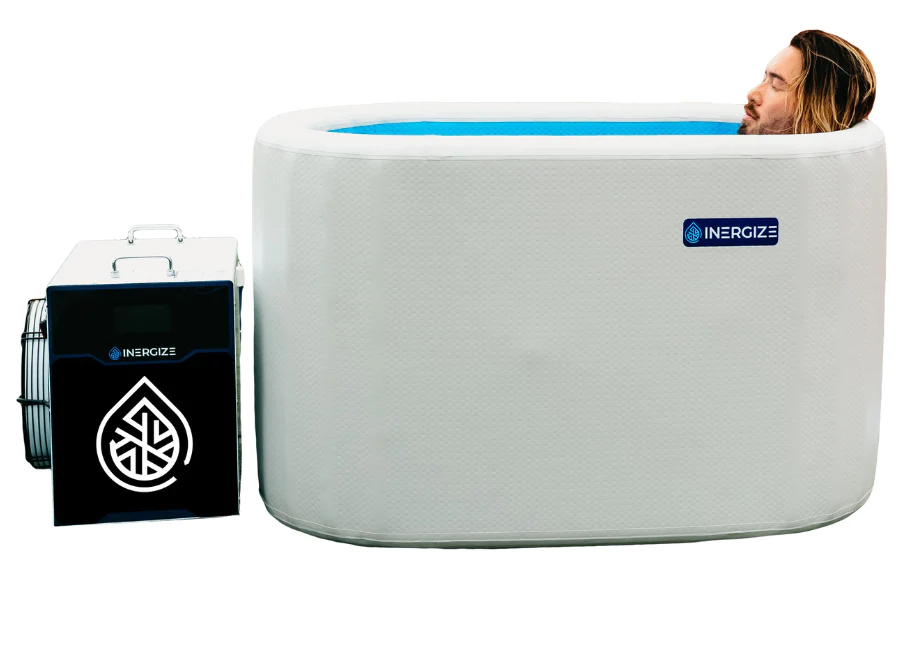 The Inergize Cold Plunge Tub is a premier product for those seeking a reliable and portable cold plunge option.
Performance-wise, the Inergize tub stands out with its impressive cooling capacity, achieving a minimum temperature of 37F, thanks to a robust 3/4HP chiller. It caters to taller users with its 30" depth, and its filtration and Ozone system guarantees clean water around the clock, minimizing the hassle of water replacements. Furthermore, users can customize and control the tub's temperature remotely via an app, a feature that significantly sets it apart from other models.
Reviews for the Inergize Cold Plunge Tub are overwhelmingly positive (including our own), with users praising its portability, performance, and convenience. The tub's 30" depth, coupled with the comfort it provides, enhances the users' cold plunge experience. Its filtration and Ozone system, alongside its easy maintenance, make it a user-friendly choice. Users have also lauded the app control feature, citing it as a significant advantage, and the range of included accessories and 1-year warranty further contribute to high user satisfaction.
ModTub – DIY COOLER COLD PLUNGE
Sauna Marketplace first partnered with Modtub, a DIY cold plunge kit using GRIZZLY 400 Coolers.
Cooler insulation is extremely advanced and has been developed for years. In general, the DIY Grizzly Cooler approach results in one of the best cold plunge tubs on the market.
The Modtub makes it easy by repackaging the cooler with everything you need. They use a lot of the same components as 'Plunge'.
Unfortunately the ModTub ModPlunge Cold Tub has been plagued by extremely slow delivery times.
Alternative Shopping LIst:
Grizzly Cooler
Cold Plunge Chiller
Intex Pump
Price: $3000+ USD
Buy Here or DIY it above
Shark Tank Cold Plunge Tub
The Plunge, as seen in Shark Tank is a pretty good indoor system or outdoor cold plunge in southern climates.
Is it the best cold plunge tub? Probably not, but it is sleek and Plunge has a commercial version available.
This is the best looking, most modern looking cold plunge on the market in our opinion. It comes with a cover and has been around for a long time.
It uses a lot of the same hardware as the Modtub, featuring filtration, circulation, and an efficient chiller.
The PLUNGE does not have nearly as good of insulation as the ModTub. Plan on spending at least twice as much to keep this system cold.
That said, this is the cold plunge ice bath standard for a reason. it's the best selling system, and you can't go wrong with it.
Price: Starting Around $5,000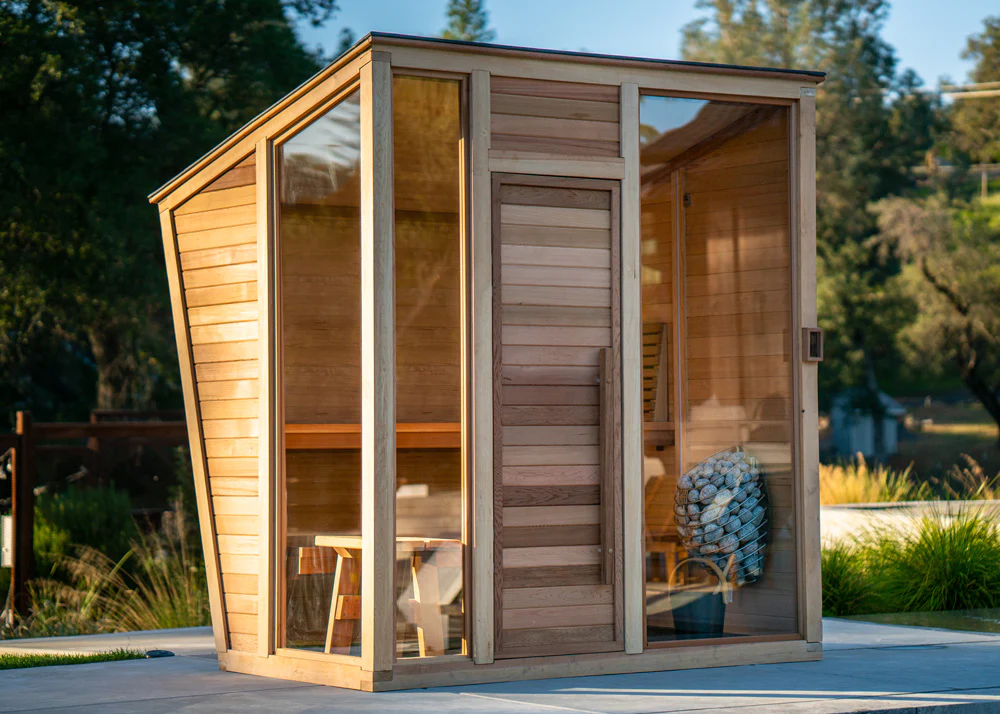 Alaskan Cold Plunge from Redwood Outdoors
The Alaskan Cold Plunge kit from Redwood Outdoors has an electric chiller and is clad with Thermowood Spruce.
It's a little more expensive, in the $5k range but if you're looking for a barrel-shaped cold plunge that will last, this is it.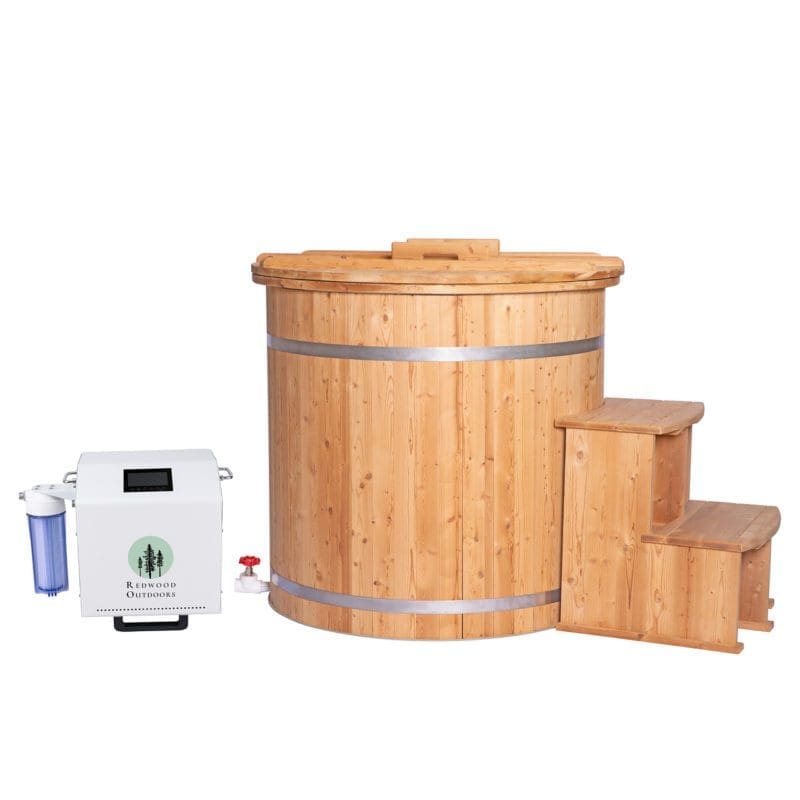 Yukon Plunge from Redwood Outdoors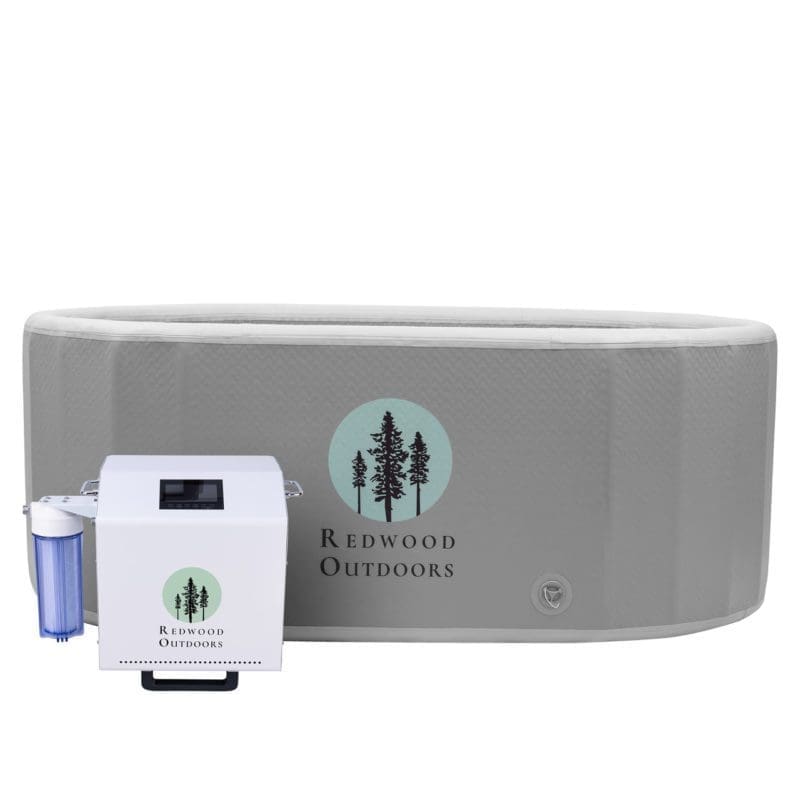 Another great option from Redwood is the Yukon Plunge. Like all Redwood Cold Plunges, the Yukon has wifi capability to control your cold plunge with an app. This helps conserve energy while making sure it's ready when you need it.
It comes with a simple 'Intex' pool pump to keep the plunge clean.
IV. Cold Plunges Without Chillers That Require Ice
The Cold Pod Review (on Amazon)
The Cold Pod emerges as an affordable and effective option for those in the market for a portable ice bathtub. Tailored for community-minded athletes, cross-fitters, and Wim Hof enthusiasts, The Cold Pod presents a perfect fusion of functionality and camaraderie, bringing together those who love cold dipping.
This portable ice barrel facilitates many cryotherapeutic benefits, including expedited recovery times, minimized muscle soreness, improved sleep quality, and bolstered mental health. These advantages make it an invaluable tool for optimizing their overall training outcomes.
Unlike pricier models, The Cold Pod does not feature a built-in chiller, requiring ice with each use. This might be a minor inconvenience for some, but it also means lower upfront costs and fewer potential mechanical issues. Despite this, The Cold Pod still delivers potent cold therapy, leveraging its design to maintain chilly temperatures.
One of the most compelling attributes of The Cold Pod is its practicality. It has a 320L ice pod, a four-layer insulated cover, six support legs, a pump, a drain hose, a repair kit, and a user manual. These included features make it a turnkey solution for at-home cold plunges, a must-have for those serious about their training or overall health.
We don't have a discount code on this one, but hey it's only $200.
Quickly, let's discuss what is NOT a cold plunge system, and why.
Ice Barrel
The ice barrel is essentially a plastic rain barrel that costs $1200 USD (why not just get this 'COLD POD' on Amazon for under $200?). They're difficult to get in, made of plastic, and awkward. They are better than a stock tank because you can cover them, but that's about it. Indeed, you could turn any tub into an ice bath without the Ice Barrel.
We're not really sure why people buy Ice Barrel without filtration, a chiller, stock tank heater, circulation, or insulation. Please let us know the draw! We know a lot of you will buy the Ice Barrel, you can receive a discount below:
Get $75 off your Ice Barrel purchase with Code: COLDTODAY
V. Conclusion
Ice baths and cold plunges are here to stay, but it's time to stop marketing plastic bins as cold plunges. If you're going to make an ice bath part of your routine you need a serious system. Luckily, proper systems are not that much more, and will save you money in the long run by not buying ice.
Buy the best cold plunge tub here or get this ice tub on Amazon.
Best Saunas to Pair a Cold Plunge Tub With
Cold plunge along with a sauna unlocks the most health benefits and will change your life. You've seen the best cold plunge tubs above, but what's the best sauna to pair with a cold plunge?
Truly, the sky is the limit. Sauna Marketplace has saunas ranging from $1,000 to $100,000 high end mobile spas. However, for most people looking to get a backyard thermaculture setup, a barrel sauna or sauna tent is the best option.